Meet the Crew
Sean Kennedy – Founder and Owner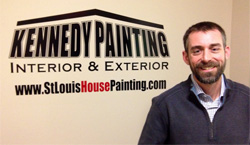 With a vision to change the way home painting is done in St. Louis, Sean started Kennedy Painting in 1998. His current role is largely focused on meeting with customers, estimating projects, and overseeing the operation and direction of the company. He is dedicated to providing the best customer experience by hiring, training, and retaining quality employees. With a "Customer is King" mentality, all employees are trained not only in trade skills, but Customer Service and communication. Sean began painting at age 20 and continues to improve the company by participating in Summit Services, a trade organization that works with painting contractors to help them develop business systems and ongoing employee training on new products and systems. He is always available and eager to receive feedback to help improve the company.
Andy Vogel – Field Supervisor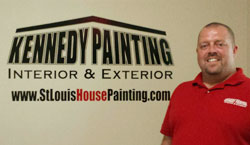 Deeply knowledgeable and thoroughly experienced, Andy brings a wealth of expertise to our company. With more than three decades in the painting industry, Andy has filled every kind of position, from apprentice to crew leader to estimator to business owner! Now he is working with our team so that our clients can benefit from his skills and knowledge. He and his wife have three children, and Andy enjoys coaching their sports teams, including basketball, soccer and T-ball.
Nate Michael – Project Estimator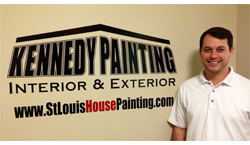 Joining Kennedy Painting in October of 2013, Nate came to us with over ten years experience in the painting trade. He owned his own painting company, so he's adding his own expertise to our newly joined forces. Nate has a passion for relationship building and feels it is important for customers to put a face with the Kennedy name, and helping them achieve their goals in a professional manner. Nate is a family man who values time with his wife, Meghan, and their children when he's not hard at work. He enjoys the outdoors as well as St Louis sports.
Adam Freeman – Project Estimator and Sales Representative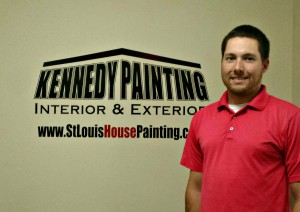 Adam is not only a paint professional with years of industry experience behind him, but he also is a third-generation paint salesman. Needless to say, he has both extensive knowledge and expertise as well as an understanding of all that goes into a successful painting project.
Even though Adam understands the ins and outs of the painting process, we appreciate that he is not one to get stuck in a rut of "the way it's always been done." He enjoys thinking outside the box and offering a fresh perspective. When he is not at work, he enjoys relaxing with his wife and daughter.
Josh Cornell – Project Estimator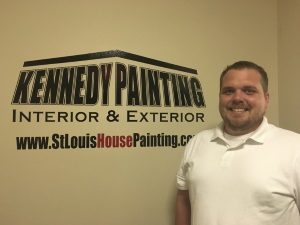 Josh joined us with not only years' worth of technical knowledge and industry experience, but also another quality that we appreciate even more. He is a real people person, and enjoys making connections and building relationships. As an estimator, this is an invaluable attribute, and one that we and our clients appreciate.
When Josh isn't at work, he enjoys spending time with his wife. On a nice, sunny day, you also can find him outdoors (most likely playing golf).
Susan Roloff- Accounting / HR Manager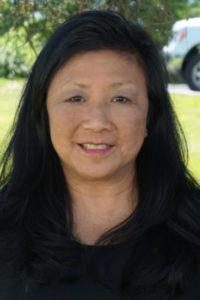 Susan recently joined our team with over 25 years of accounting and business operations experience. But, don't let that fool you… On her own time, you'll find her riding a Harley with her husband, enjoying some well-deserved time away from her desk. She also is a proud mom, and loves watching her two sons grow into fantastic young men. It doesn't get better than that!
Debbie Schmidt – Accounting and HR Assistant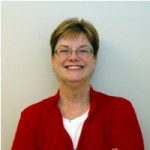 Bringing a wide array of skills and experience, Debbie manages our office with competence and reliability. She is the number wizard, working magic with our bookkeeping, invoicing, and other financial aspects, as well as data filing and management systems, marketing and customer appointments and service. Debbie's efficiency lightens the office burden for others so that they can focus on meeting customer needs with as little distraction as possible. Her past work experiences include advertising and publishing, the DMV, and even NASA! She has worked for Kennedy Painting since May of 2010, and the Golden Rule is her primary goal. Happily married, Debbie and her husband Vernon have one son and an adorable grandson.
Mari Hensley – Front Office Manager/ Marketing Manager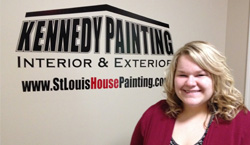 Mari has been with the company since March of 2013 and has been a valuable addition to the office staff. She has come a long way since her first couple years with the company. Starting as the administrative assistant, she is now managing the front end of the office and has completely taken over the marketing management for the company. She also helps with the sales tracking/management and recruiting for the company. When Mari is not working, she is spending time with her family and friends. She enjoys being outdoors and loves going places she's never been.
Chelsea Van Duyne- Scheduling Assistant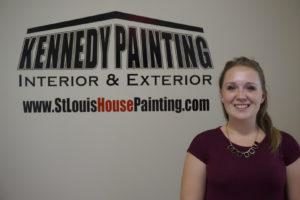 Chelsea joined our team in March of 2017, she started as our admin assistant but was quickly promoted to Scheduling Assistant. Her understanding of the company and confidence makes her the perfect person for the scheduling role. In this positon she will be managing schedule updates, color consults, deposits, and be your direct advocate for all scheduling questions and concerns. She actually loves being on the phone in particular, so her customer service skills are perfect for this position. As much as she enjoys her desk work, on her days off you'll almost always find her outside at a concert or sporting event. She is a diehard St. Louis Cardinals and Blues fan, she is always ready to talk sports. We are so happy to have her as a part of our team!
Katie Moore- Administrative Assistant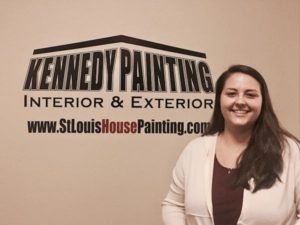 In our office, Katie answers all incoming calls and emails, as well as schedules the estimators' appointments and plans their days. During those moments when the phone isn't ringing, she helps us with production, marketing, and other client communications. 
Outside of work, Katie enjoys coaching volleyball for grade school. Or, you might also catch her spending time with her four-legged friends (she's an avid lover of dogs, and who could blame her?). As a born-and-raised St. Louis native, she's also a fan of the St. Louis Blues (we can't blame her for that either!).
Amy Akers – Color consultant
Passionate about interior design since age 10, Amy has dedicated her life to enhancing the beauty of people's homes. Now with a degree in interior design, she pairs her creativity and detail-oriented personality to provide project estimates and manage our color consultation program. Amy derives great satisfaction from helping people plan and implement changes in their homes, and her organizational skills help projects run smoothly. A proud mother and dedicated worker, Amy is a valued member of the Kennedy team.
Kascar (Ric) Reed – Senior Crew Leader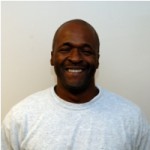 With 20 years of experience in house painting, Ric has extensive skills and knowledge in all kinds of exterior and interior painting. Serving the company since 2006, he has shown wonderful dedication and is willing and ready to do "whatever is needed of me" to do a job right. He knows the tools, products, and techniques that it takes to provide beautiful, lasting results, and he has brought a satisfied smile to customers all across the St. Louis region.
Michael Daniels – Crew Leader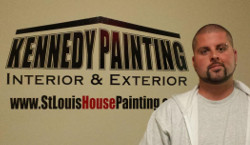 Mike comes to us with 9 years of painting experience, and particular strength in the areas of drywall repair and carpentry. This would be an asset in itself, but on top of that he brings strong leadership qualities, attention to detail, and customer service skills that make him a welcome addition to our team. When Mike isn't working with his hands for Kennedy Painting, he is putting them to use pursuing two other passions of his: building cars and riding motocross.
Bob Horn – Project Manager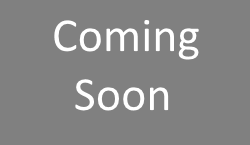 A born-and-raised St. Louis native, Bob is a true local professional. His painting experience extends back for 25 years, making him an ideal Project Manager who understands every aspect of the process. Beyond skill alone, Bob also has a few priceless qualities that cannot be taught: excellent attention to detail, a focus on customers, and a genuine interest in making our clients happy.
While he can handle projects of all kinds, his favorite is painting new construction. Why? Well, who doesn't love starting with a clean slate?
David Daniels – Project Manager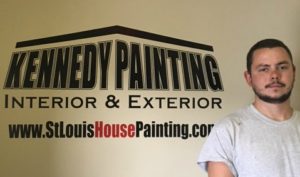 David is a skilled Project Manager who truly takes pride in his work and understands our goals as a company. Not only is he a St. Louis native who knows our city and culture, but he also brings optimism, precision, experience, and excellent customer service to every job site he visits.
As an interesting side note, David's older brother works here as well. We are thrilled to have them both!
If you are looking for painting contractors in St. Louis, please contact us today!