The Best in Ballwin Painting Services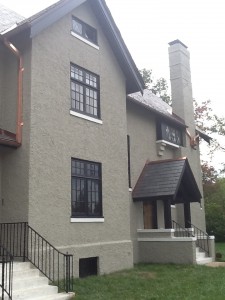 If you are thinking of painting the inside or outside of you home, or have other painting needs, take time to look for a painting contractor, and at least get an estimate for their services. Painting contractors can often look at your home, interior or exterior, and make suggestions on color, texturing, and new design finishes that you may not have thought of (or that are new on the market). A Ballwin contractor can also suggest the best and longest lasting type of paint to use based on lifestyle and climate.
It doesn't hurt to do some cost comparisons, or to try and negotiate a better price if you think an estimate is too high. Shopping and comparing can give you a better understanding of what the local market is for painting services, and can give you some negotiating power when talking about costs. Remember that cheaper is not always better. Some painting contractors may try to cut corners to save a few dollars.
If you want your next painting project to be finished quickly, and to have those extra finishing touches that make your home look wonderful, consider painting contractors. They can make your next painting project much more enjoyable, without the stress of doing-it-yourself.
Our Painting Contractor Services
Exterior Painting
Interior Painting
Power Washing
Plaster & Drywall
Wallpaper Removal
Deck & Fence Staining
Commercial Painting
Color Consultations
Painter For A Day
Ballwin Deck & Fence Staining
If you have a deck or fence that is starting to show its age, you might want to consider having it refinished and stained. A new stain can restore life to wooden fixtures and completely revitalize their appearance. This is a great way to protect your investment and keep the investment that you made safe and looking great for years to come.
Ballwin Plaster & Drywall Repair
If you've suffered damage to your plaster or drywall don't go through the trouble of trying to make the repairs yourself when you can have it handled by a professional. At Kennedy Painting we will patch any damage to your drywall and provide color matching so that the repairs blend perfectly with your existing paint job.
What Our Ballwin Customers Are Saying About Us
---
Thanks! Appreciate the work, review before the work started, answering all my questions!

---



Recent Articles
The effect of light on color

Licensed interior designers and color consultants consider the direction a room faces. Whether it is north, south, east, or west, makes a great deal of difference to the choice of color scheme. For instance, a bedroom that faces east and receives strong sunlight in the early morning will look very different when next seen late at…

Read More

What Are the Most Popular Kitchen Cabinet Colors?

There's no denying that kitchen cabinet painting is enjoying an unprecedented level of popularity. You only need to click over to your favorite home improvement resources (like Houzz.com) for endless inspiration and example after example of transformed spaces. Why? Well, there are a few key benefits to keep in mind: You can choose any color…

Read More

If you need the service of the best in expert painters in Ballwin, give us a call at 314-952-0156 or complete our online request form.