St. Louis Plaster & Drywall Repair Services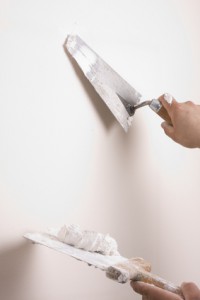 Restoring Blemished Surfaces for a Perfect Finish
Why do plaster and drywall crack?
Home life is hard on walls; from kids' games to furniture movers, there are a thousand ways to dent, gouge, crack, and put holes through plaster and drywall. Time is another deteriorating factor. Additionally, water leaks and minor house fires can leave these surfaces in serious need of repair. Nearby sources of vibration, such as highways, train lines or blasting, can rattle walls and crack them over time. Finally, newer houses can shift and settle due to seasonally expanding and contracting soil, often causing diagonal cracks in drywall and plaster.
Plaster and Drywall Repair
Whatever the cause of the damage, Kennedy's plaster and drywall experts specialize in repairing the harm and restoring a uniform surface on interior walls, including matching existing textures. Using expert techniques and the finest plaster and drywall compounds, we can recreate a seamless surface so that, after painting, the previously damaged spots are indistinguishable from the rest of the wall.
Why Call on Kennedy Painting for Your Drywall Repairs?
Drywall and plaster repairs are best left to professionals if you don't want to notice the damages, and this is exactly why you need the service of Kennedy Painting. With more than 15 years of experience we have the skill set needed to handle all of your interior drywall and plaster repairs without incident and offer unblemished results that will be indiscernible from the rest of your wall. Keeping your home's interior attractive is a must and you can only do that if you have any damages repaired and color-matched by an experienced professional.
All of Our Work Benefits from the Following:
2 Year Guarantee
Color Matching
15+ Years of Experience
BBB A+ Accredited
Read Recent Articles
Plaster Repair in Clayton, MO

Many homes with plaster wall have areas with cracking or buckling. In some cases what is underneath is far worse than what is seen. For example, in this home where we recently worked, we discovered a hairline crack was actually a 3'x4' section of  failing plaster. before …

Read More

Common Causes for Glendale Drywall Repairs

Just like how we have to go to the doctor every once in a while, our Glendale houses also have to go under repair every so often. From small touch ups to large scale renovations, there are a slew of things that can be done to make your house comfortable to live in and always seem…

Read More

If you are looking for a St. Louis drywall repair contractor, please contact us today!