Expert St. Louis Color Consultations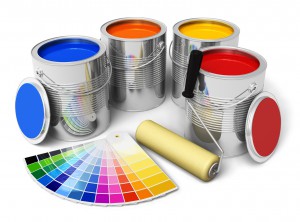 For many St. Louis homeowners, the most stressful part of a painting project is choosing the colors; the nearly infinite variety of colors, sheens, and shades can be quite intimidating. As a full-service house painting contractor, Kennedy Painting wants to serve you in all phases of your home redecorating experience. Our color consultations help take the guesswork and stress out of the choice, making the decision an enjoyable experience.
In addition to color decks from multiple manufacturers, our crew leaders also have binders at your disposal with over-sized samples of the TOP 50 FAVORITE COLORS and a list of the 360 most used colors. We at Kennedy Painting are committed to being your complete Painting and Color Contractor!
Color Consultations

We know that sometimes, because of wall size, varied lighting, and many other conditions, a color just doesn't look the way you expected once it is on the wall. During a color consultation, we can assist you with creating a color scheme for one room, or for the whole house.

*Ask your estimator how to receive a FREE color consultation!*

Designer for a Day

Designer for a Day is a great service for those that need assistance creating a plan. With this service, we do an in home consultation, and then follow up with a design plan that you can execute as your time and budget allows. The plan we leave you with can consist of:

Color Schemes
Suggestions for flooring
Wall and window treatments
Lighting & Fixture recommendations
Furniture and Accessories List
Furniture plan (to scale)
Contractor referrals if needed

We can also provide you with a digital layout and/ or design board!

Preparing to sell

If you are looking to sell your home, we will come out and offer tips on how to show your home in the best way possible. We work with real estate agents and/ or their clients to prepare you for what potential buyers are looking for. Be it is simple furniture placement, painting or other affordable ways to update your home, we will help you prepare your home for resale.
Why hire an Interior Designer?
Hiring a professional designer makes the planning of any project easier on the homeowner. A trained designer should offer clients the following:
Eliminate the guesswork, and see that the project runs smoothly
Help avoid costly mistakes
Refer and assist in hiring reliable, skilled contractors
Create a beautiful and functional space!
Read Recent Articles
Refreshing Interior Paint and Plasterwork in St. Louis City's Central West End

As a professional painting company, we have the privilege of being invited to many, many homes of all shapes, sizes, and styles. It keeps things interesting and fresh, as every job is just a little different.Occasionally we have the opportunity to work in an especially unique, beautiful place. Such was the case when we were…

Read More

Don't Be Afraid of the Dark! 5 Tips for Painting with Darker Colors

Light, bright, and friendly interior paint colors are popular (and for good reason), but they are far from your only option. Dark colors get a bad rap too quickly, often based on assumptions that they'll make a space feel small, uninviting, and depressing. That just doesn't have to be the case! Here are a few…

Read More

If you need color consultation services in St. Louis, contact us today at 314-952-0156 or complete our online request form.