Affton Painting Professionals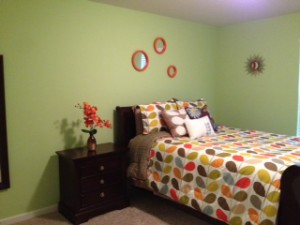 So, it's time to paint the exterior of your house. This, of course, is one of the many expensive pains to owning a home and one that homeowners have to endure every 6-8 years, depending on your house and siding.
Painting Recommendations
First, determine if there is any prep work that needs to be done prior to painting. Do you have any rotted siding, window sills, hand railing, or window and door trim? Make sure you take this opportunity to correct this issue prior to painting. Often times paint companies have experience in this field and can provide a quote that includes replacing your siding and trim. However, if your project involves replacing a significant amount of siding you may want to call a siding pro. Make sure the painter or carpenter replacing your siding is using the same style and size you currently have.
Second, decide if you want to take this opportunity to change the color of your house. Updating the color can add new spice to your house. When determining what colors to use make sure that they fit into your neighborhood as well as colors that already exist. For instance you already have a roof, plants, landscaping, a foundation, and a driveway present. These all have colors that need to be taken into consideration when trying to compliment your house to its surroundings. Also note that if you are changing your house's color your price for painting will go up. You may not be able to get away with just 1 or 2 coats to cover your old color. Each coat will cost more money.
Third, decide if you want your house hand brushed or sprayed. If you leave it to the Affton paint company to decide you will most likely have it sprayed because it is faster and easier. However, if you have an older house, wood siding, or it has been a while since your last painting you may want to consider asking for a quote that includes painting by hand. The hand brushing application will provide a thicker coat and gets the paint deeper into the wood and crevasses, ensuring that you have protection from water penetration. Keep in mind that hand brushing is more time consuming and will cost more money.
Finally, select the Affton painting contractor to do your exterior work. There is a lot of price variation for large exterior jobs, so shop your job around. However, you shouldn't always decide based only on price. You need to consider the quality of company and your comfort level with that company. For instance do they ask for a lot of money up front? (they shouldn't ask for more than one-third of the total price) Do they leave you a professional detailed estimate? (they should) Are they hard to get a hold of on the phone? (if they don't answer the phone or return messages be careful) Do they have business cards? (if they are running a good business they should) These are all signs to look for to determine whether or not you are getting a professional and someone that will be easy to work with.
Our Painting Services
Exterior Painting
Interior Painting
Power Washing
Plaster & Drywall
Wallpaper Removal
Deck & Fence Staining
Commercial Painting
Color Consultations
Painter For A Day
Affton Power Washing Service
When it comes to getting your home ready for a new paint job, you need to make certain that you have the help of a contractor that takes the time to do the proper prep work. This means having your home's exterior subjected to a thorough power washing, as this will eliminate debris and build-up that could impede the application of new paint. We can also offer our power washing services to improve the appearance of your home, removing build-up of grime, grease, rust, and other unsightly stains that have accrued over the years!
Affton's Commercial Painting Contractor
We do much more than small jobs or whole house interior and exterior painting; we are also available for major commercial painting tasks. Our painting team is able to tackle any scale job, and can completely rework the interior and exterior of your office building or business. If you want a workplace that remains productive you need to keep up its appearances, and that means relying on the professional painting contractors at Kennedy Painting.
What Our Affton Customers Are Saying About Us
Kennedy Painting appreciates your feedback. Please give us more time to collect your reviews and they will be displayed below.
---
Recent Articles
How To Paint A Ceiling

A ceiling is an important part of a room that is often overlooked when painting or decorating. When a ceiling is painted well and painted creatively (with a color other than white), it will noticeably add character and comfort to a room. First of all, if the ceiling is textured (popcorn, acoustic or knockdown), consider…

Read More

3 Things to Look for When Hiring a Painting Contractor

Hiring someone to paint your home is an investment that involves a small amount of risk, but it is well worth the investment if you choose a well-respected company that puts quality first. Here are the most important things to consider when looking for a painting company. Look for Quality over Cost. It's smart to…

Read More

If you are in need of Affton painting services, give us a call today at 314-952-0156 or complete our online request form.