Cabinet Refinishing with Kennedy Painting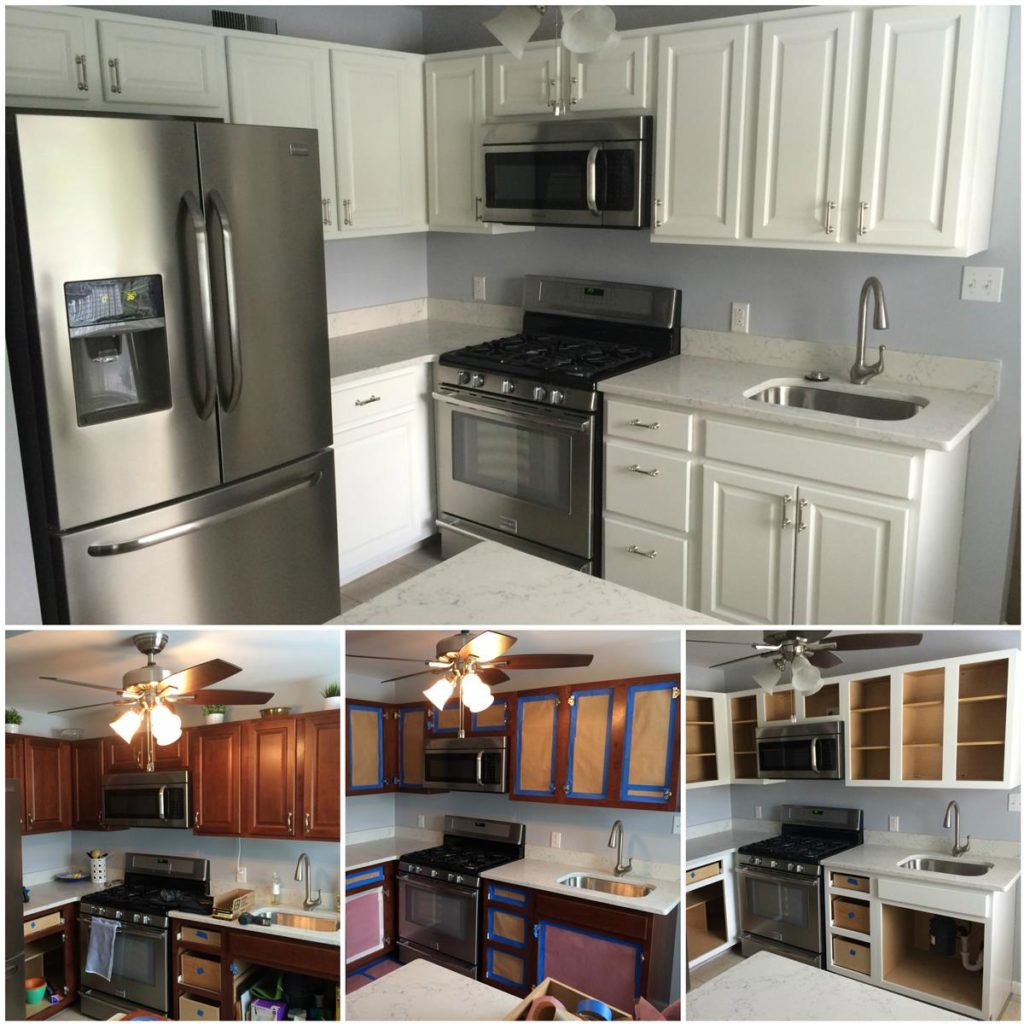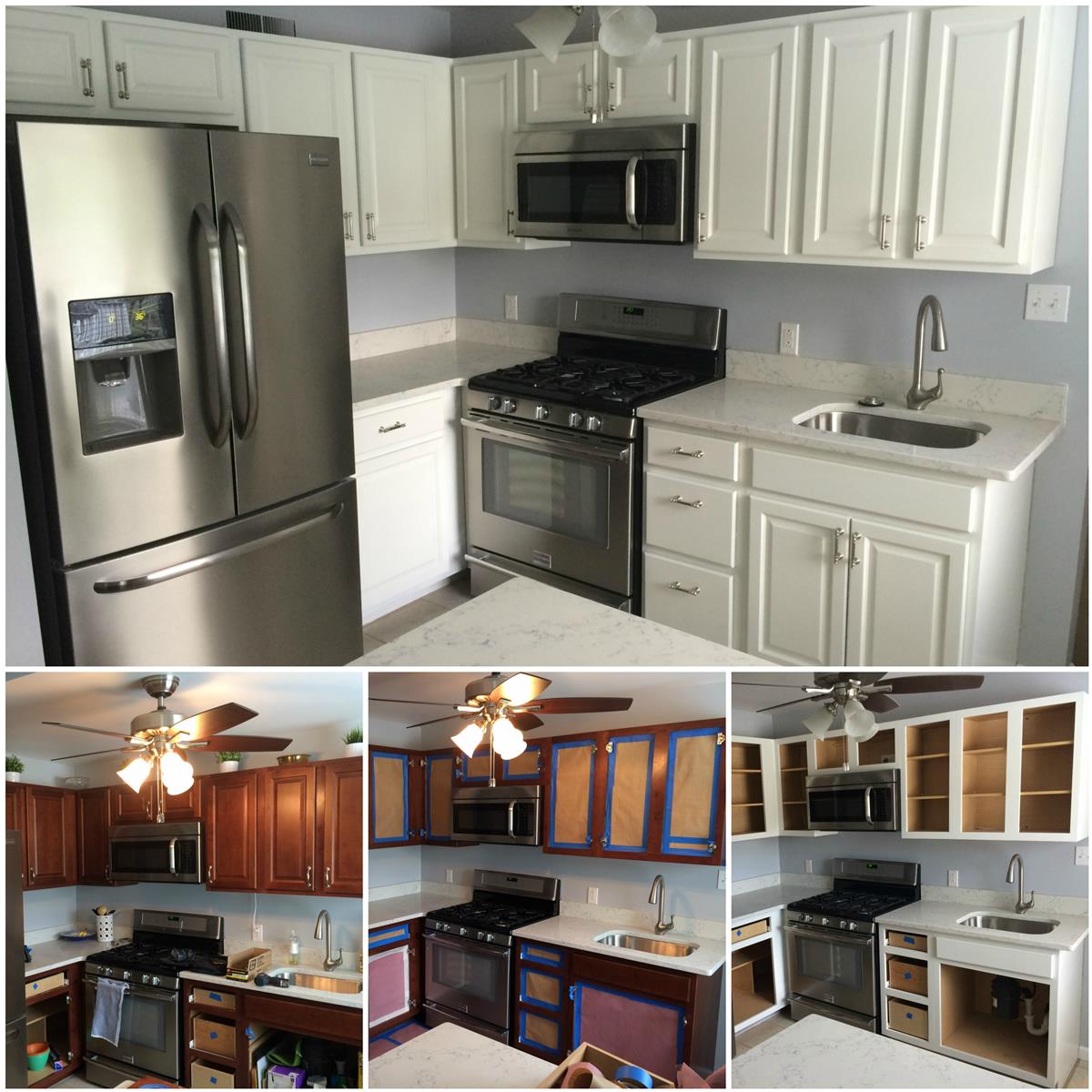 Cabinet refinishing is a great way to breathe some new life into your St. Louis kitchen. The cabinets are one of the most visually prominent aspects in a kitchen, and a different stain or new coat of paint can make a big difference for your kitchen's overall look and feel. At Kennedy Painting, our qualified painting contractors can work with you to give your dull, dreary old cabinets a rejuvenating makeover. With new paints, stains, and finishes, you don't need to buy a whole new set of cabinets to create an entirely new look and make your old kitchen feel like new again.
Paints, Stains and Finishes
When you're refinishing your cabinets with help from our expert painters at Kennedy Painting, you'll be able to choose from a variety of options for painting or staining them a different color. A change in cabinet color can strongly alter the whole room's aesthetic. For example, if you've had light stained cabinets, a dark stain or a coat of bold red paint could give your kitchen a whole new look. Wood stains come in a wide range of hues, and in many cases, they can help make your cabinets look like they're made from a different type of wood. For example, birch and maple cabinets take well to dark stains, and can masquerade as heavier, pricier woods like mahogany or cherry. There are several different types of stains made from different materials, including:
Oil-based stains. This traditional type of stain is great for cabinet refinishing, since it works well for restaining and touch-ups.
Water-based stains are more environmentally friendly than oil-based stains, and emit fewer noxious fumes.
Penetrating oil stains not only stain the cabinetry, but also act to help protect the wood.
Gel stains. This wood stain variety adheres well to vertical surfaces.
You may want to consult with our contractors about what type of stain would be ideal for your kitchen cabinets, especially since different types of stains don't necessarily come in the same range of colors. When you've decided on the perfect stain, you may also want to consider an interesting finish. Some common types of cabinet finishes include:
Burnished finishes use strategic sanding and distressing to create a traditional, worn-in look.
Highlighted finishes add visual depth by using a lighter "highlight" glaze on the recessed parts of the doors and drawers.
Glazed finishes create an added sheen.
Vintage finishes create a lightly distressed look that can give relatively new cabinets the character and prestige of a priceless antique.
You can also consider painting your cabinets instead of going with a natural wood look. White is a perennial favorite in kitchens for its light, airy look. Black or a bold, bright color can lend your kitchen a modern feel, and pastel "Easter egg" colors are historically accurate for 1950s midcentury modern kitchens.
Whether you'd prefer sleek, black modern paint or an antique finish on a wood stain, our cabinet specialists at Kennedy Painters can work with you to transform your cabinets into something refreshingly different and unique.
Kitchen Cabinet Refinishing Gallery
Read Recent Articles
4 Exterior Inspections For Your Home This Spring

Spring and Fall are the best times for home maintenance repairs. An inspection should be done once or twice a year for things like rotting wood, peeling paint, mold growth and leaky windows. Managing these areas will make your home look and feel nicer, and will also add to the value of your home. To…

Read More

How a Pressure Washer Works

Every year homeowners receive a nasty load of dirt, mud, leaves and other debris on the surfaces of their houses sidewalks and driveways. In addition, their automobiles are caked with the results of road salt, mud and oil. The simplest pressure washers just transform an ordinary garden hose into a monster which blasts away dirt,…

Read More

If you are looking for a St. Louis cabinet refinishing company, please contact us today at 314-952-0156!