St. Louis Wallpaper Removal Experts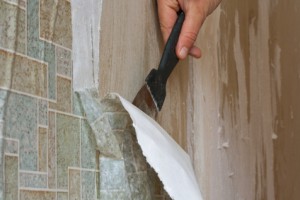 Erasing the Ghosts of Styles Past
Sloppy, sticky, frustrated and exhausted, many homeowners wish they had never begun removing their wallpaper, long before the project is over! Anyone who has tried to remove old wallpaper can testify to how difficult and unpleasant a task it is. But before you try to convince yourself that the faded floral print or the tropical beach scene isn't so bad after all, consider calling in a professional.
Kennedy Painting has many years of experience in removing even the toughest wall coverings. Using unique tools and an enzyme-based spray, our specialists can take the mess and headache out of the wallpaper removal, leaving behind a fresh slate for your creative designs.
Once the paper is removed, we always ensure that all previous adhesives are washed away. If the area is going to be repainted, our painting experts can perform any necessary repairs and use specialty coatings to completely seal out any residue that might still be left behind. Then, you are ready for a problem-free paint job, and that previous wallpaper will be nothing but a distant memory!
Why You Want Us for Your St. Louis Wallpaper Removal
When it comes to having your wallpaper removed, you want to make certain that the results don't' leave behind sticky residues that can get in the way of painting or applying new paper, tiles, or other improvements. The team at Kennedy Painting has years of experience serving the St. Louis area, and as a locally owned and operated business, we take great pride in the quality of our service and the reputation that we have earned. For results that are guaranteed, you need to rely on the fast, friendly service, of our professional contractors.
2 year Guarantee
15+ Years of Experience
Locally-Owned and Operated
BBB A+ Accredited
Read Recent Articles
Wallpaper Removal & Wall Restoration in Central West End

This project was in Central West End for a customer whose walls were badly damaged underneath the wallpaper. Wallpaper removal always presents the opportunity to turn into an adventure. If there is existing wallpaper in a home when a new homeowner movies in, there is a mystery behind that paper and the only way to get…

Read More

Wallpaper Removal and Interior Painting in St. Louis

For many local homeowners, wallpaper is the bane of their existence. Not only is it outdated, pointing back to decades far away in the rearview mirror, but homeowners like you also know that stripping it off will be one of the toughest projects they've ever tackled. That kills their motivation, keeping them stuck in a…

Read More

If you are in need of professional St. Louis wallpaper removal services, give us a call today at 314-952-0156 or fill out our online request form.