St. Louis' Original Painter For A Day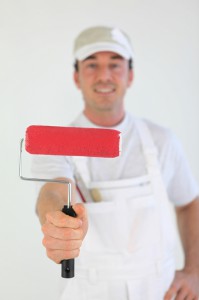 We love serving our clients. This is why we've developed our very own Painter for a Day program. If you have a small project, Kennedy's Painter for a Day can get the job done on time and at a very affordable rate. Taking advantage of this service means that you get the attention of an experienced and professional painter for your small painting projects, rendering crisp, clean results that can be difficult to achieve otherwise.
There's no reason that you should slave over handling your own painting on minor projects when with the help of a painter for a day service you can rest easy while all the work is done for you. The muss, fuss, and mess of painting can be completely removed just by calling on a professional painting contractor. Though you may think you are on your own when conducting minor painting jobs that is not the case; give Kennedy Painting a call today and see what we can do for you!
Our Painter for a Day Includes:
A Professional Kennedy Master Painter
A Fully-equipped Kennedy Painting Vehicle with all necessary supplies
Up to 8 hours of Quality Painting or Carpentry
Interior or exterior work
Our Efficient, Expert Painter can:
Change the color of a Small Bedroom
Repaint your bathroom with mildew-resistant paint
Freshen up your baseboards and trim
Paint or stain your entry door
Paint exterior trim and more
Pressure Wash exterior surfaces
And much more! Just ask, we're at your service!
If you love our painter, keep him as long as you'd like! We can bill him out at our special daily rate.
The Kennedy Painting St. Louis Advantage
BBB A+ Accredited Business
2 Year Guarantee on All Work
15 Years of Experience
Locally Owned and Operated
Upfront Pricing
Read Recent Articles
Have You Heard About Our New Customer Care Center?

Thanks to the digital age we live in, there are numerous ways you can get in touch with us (or almost any business!). We have active social pages, a frequently-updated website, email contact, forums for online reviews, and the list goes on… There still, however, is just no substitute for the good ole fashioned telephone.…

Read More

My First Painter For a Day Experience

A Walk Down Memory Lane By Jeremy Adams I thought it was best this week to share about my first experience when we began a new service several years ago called a, "Painter For a Day." Basically it was a way for new customers to sample our services for a small daily rate and for…

Read More

To take advantage of our painter for a day service, contact the St. Louis painting professionals at 314-952-0156 or complete our online request form.