What Are the Most Popular Kitchen Cabinet Colors?
---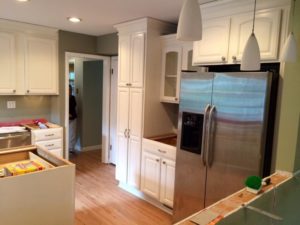 There's no denying that kitchen cabinet painting is enjoying an unprecedented level of popularity. You only need to click over to your favorite home improvement resources (like Houzz.com) for endless inspiration and example after example of transformed spaces.
Why?
Well, there are a few key benefits to keep in mind:
You can choose any color or style you'd like, including custom mixes and unique finishing techniques

Compared to most replacements, cabinet painting is a cost-effective option

The

process is fast and minimally-invasive

in comparison to kitchen demolition and remodeling

The transformations are incredible

Carefully chosen and applied paint is durable, practical, and attractive

Improvements to the kitchen offer

huge returns on investment
This leads to a logical next question: what are the most popular kitchen cabinet colors?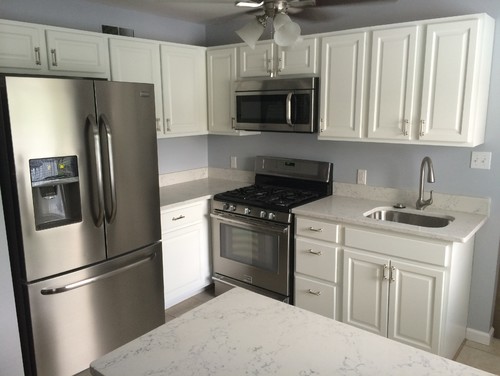 Cabinet Color Trends of 2017
White and Grey – These win just about every popularity contest. Not only do they help a kitchen space feel bright, clean, and fresh, but they also pair well with almost any other color or texture you'd like to introduce. Their power is in their neutrality.

Include a Natural Touch – While this isn't technically a cabinet color, it is a popular item to pair with painted cabinets. Natural wood in the form of open shelving, an island countertop (butcher block), or even wood stools/seating all pair beautifully with white and grey cabinets.

Different Upper and Lower Cabinet Colors – Typically reserving the lower cabinets for a darker color and upper cabinets for a lighter option, this is a stylish way to mix up your colors a bit.

Island Accent – If you like the idea of lighter/neutral cabinets but still are craving some color, why not turn your island into an accent? A brighter, bolder paint can look beautiful in this more localized form.
Talk To a Professional Cabinet Painter for More Ideas and Inspiration
We recommend working with an established painting company for this kind of project, as there is just no margin for error when it comes to painting cabinetry.
If you live in the St. Louis area, give us a call at Kennedy Painting! It would be our pleasure to serve you.