Employment Opportunities with Kennedy Painting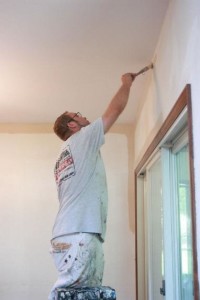 Since 1998, Sean Kennedy has maintained a close focus on our customers throughout the St. Louis area, and has carefully assembled a team that reflects our core values. Working together, we have had the privilege of serving thousands of local homes and building a trusted recognized name.
Are You An Experienced Painter?
While having previous experience is not a necessity for joining our team, we certainly do appreciate the years you have invested into the industry. At Kennedy Painting you will find a work environment that values your input and knowledge, and where you can pursue a vibrant successful career.
Are You Just Starting Out?
If you are a little light on experience, don't worry! We look for and value those attributes that cannot be taught, like having a good attitude, a strong worth ethic, and truly caring about our clients. These attributes led to our success, and they can lead to yours as well. We will teach you what you need to know along the way.
CLICK HERE TO FILL OUT AN ONLINE APPLICATION
What are the benefits of joining the Kennedy painting team?
Performance bonuses
Health, Vision, dental and life insurance
Year-round employment
Simple IRA after 2 years
Paid time off
Ongoing education and training opportunities
In-house Certification programs
Management and leadership Training
Certified Safety Program
Advancement Opportunities
A stable and personal growth- oriented workplace
We encourage your ideas, opinions, and hard work
Monthly Company Parties
How to Apply
Fill out an Online Application
OR stop by our office located at 11678 Gravois Rd St. Louis MO 63126 during the hours of 8:30 am and 5:00 pm, Monday through Friday. Please call (314) 952-0156 for more information.