There Is No Such Thing As a "Touch-Up"
---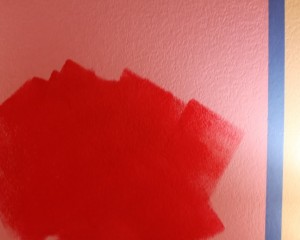 How many times have you endeavored to "touch up" a chipped or dirty part of a wall with fresh paint, but ended up making a new noticeable blotch on the wall? In all honesty, touch-ups are often a myth. Sometimes if you have the same can of paint you originally painted the wall with, you can touch-up a spot without it being distinct. However, often no matter how hard you try, you can't entirely disguise a "touched-up" spot.
There are various reasons for touch-ups being nearly impossible:
The new spot may be cleaner than the old paint.
The old paint may be faded.
There may be a sheen difference due to wear and tear on the original wall.
The paint from the can may have aged, and/or may not match the wall texture when dry.
If you don't think any of these are applicable, and want to try simply painting a small area, it's advisable to use a roller rather than a brush. Also, try to feather the paint out by gradually releasing pressure on the roller toward the edge of the stroke until you lift it off the wall.
In order to most efficiently touch up a wall, paint the whole wall from corner to corner with the closest match you can find to the original room color. After repainting the entire surface, the area should be unmistakably and successfully retouched.
If you would like help repainting those walls that need "touching up," give Kennedy Painting a call at 314-952-0156 to schedule a free estimate.