How To Prepare A Wall Before Painting
---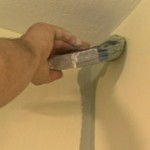 In order for a paint job to look clean and smooth, it is important that proper surface preparation is done prior to painting.
The first step in surface preparation is to fill in any holes with a good quality wall spackle. After it dries, sand the surface to a smooth finish. Be sure to also smooth out any old paint drips or ridges. If you are also painting the trim, sand the glossy surfaces lightly so the paint will adhere better.
Second, clean the walls thoroughly. Use a lightly damp cloth to free the surface from all dust, dirt and grime. You may have to use some soap or all-purpose cleaner for the tough spots.
While the surface dries, tape around the walls and make sure all the corners are free from dust.
Next, prime the walls with a good quality primer to increase paint adhesion and prevent flaking or peeling paint in the future.
One more smart thing to do before you begin painting is to inventory, making sure you have all the needed materials for the job, (things such as: a paint can opener, stir sticks, roller covers, paint brushes, paint tray, gloves, drop cloth, etc).
After completing these simple steps, the paint will adhere much better to the walls which will result in a beautiful, long-lasting finish.
Since 1998, Kennedy Painting has been providing quality service to the St. Louis area. If you have any more questions or if you would like to place your project in capable hands, call Kennedy Painting at 314-952-0156.