How to Paint Stained Walls
---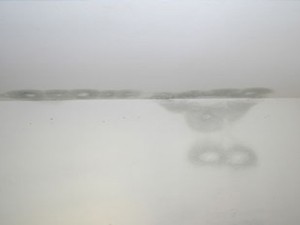 When your walls are badly stained, sometimes regular primers aren't quite durable enough to block the stain. Typically it takes 3 or more coats of regular primer and paint to cover tough stains.
Instead of dealing with the hassle of painting copious coats of primer and paint, painting with blocker primer is a great alternative solution. Blocker primer has powerful stain-blocking formulas that works to seal most interior stains including water, smoke, ink, marker and grease stains.
Two efficient blocker primer products are: Kilz and Zinsser. Depending on the size of the stain, you can either spot prime, or paint a whole wall with these primers.
Here is a quick 4-step method for painting stained walls:
1. Clean and prepare your wall. (Read our blog post on surface preparation.)
2. Spot prime or fully prime with blocker primer.
3. Paint the wall with one coat of tinted primer. (Since primer is less expensive than paint, it is more cost effective to paint a coat of primer before painting the final coats, unless you're painting dark paint over light and only plan on painting one final coat.)
4. Apply 1 – 2 top-coats of paint.
For optimal results, paint in full daylight so 1) you can be sure you've completely covered the stain by the final coat, and 2) to prevent missing spots on the wall when painting the top coat(s).
Give Kennedy Painting a call if you have any questions. Or if you live in the St. Louis area, call us for a free estimate at 314-952-0156.