How To Paint A Ceiling
---
A ceiling is an important part of a room that is often overlooked when painting or decorating. When a ceiling is painted well and painted creatively (with a color other than white), it will noticeably add character and comfort to a room.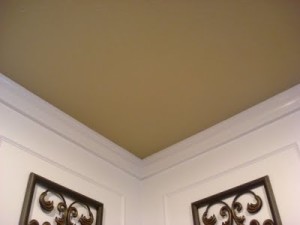 First of all, if the ceiling is textured (popcorn, acoustic or knockdown), consider hiring a painting contractor for best results. Textured ceilings are usually painted with spray materials which professional painters have and know how to use. Secondly, if your ceiling is in need of any repairs, call a contractor to fix the damage and to skim coat the ceiling to a smooth surface.
If your ceiling is flat, then go ahead and begin your DIY project. Here is our 8-step ceiling painting process:
Choose your color. Most people paint their ceilings white because of the reflective qualities of white, but white doesn't always match the taste of the room. Try a lighter shade of the wall color, or an off-white to create a more harmonious atmosphere in the room. Ceilings are typically painted with flat paint because of its smooth appearance and ability to hide imperfections.
Prepare your supplies. You should have:

a spackle and putty knife for holes
caulk and a caulking gun (if you have wall cracks in corners)
a ladder
a paint tray and liner
a wall brush for cutting in
Prepare the room. Put plastic over furniture and put a drop cloth on the floor to protect  the surfaces in the room. Also, take the necessary precautions to protect window sills, baseboards and other moulding in the room.
Mask edges. Use 1″ 3M painters tape to mask trim and the top of the wall where it meets the ceiling. This step is optional if you are using white paint on your ceiling and will be painting the walls after the ceiling, however, masking the corners is highly recommended to preserve an even finish.
Prime the ceiling. Unless your paint is a two-in-one (primer and paint), then prime your ceiling with a good-quality primer. If your ceiling has any stains, use a primer with a stain-blocker for best results.
Cut in along the corners with a wall or angled brush. Cut around all the edges before painting the whole ceiling.
Paint the ceiling. While the cut in line is still wet, use a roller to paint the rest of your ceiling. Use a handle extension if necessary. Be sure to coat your roller evenly and remove excess paint from the roller before painting. For the best finish, paint first in zigzagging lines to cover the entire ceiling lightly with paint, then go over the zigzags with straight lines to even out the paint and create a visually solid surface. If you used primer, a second coat should not be necessary. But if the ceiling looks like it needs another coat, then apply one more coat with the same technique as the first.
Remove painter's tape. Before the paint is fully dry, remove the painter's tape gently at a 45° angle.
If you have more questions, or if you want to hire a professional painting company, call Kennedy Painting at 314-952-0156.