How to Make a Room Feel Bigger
---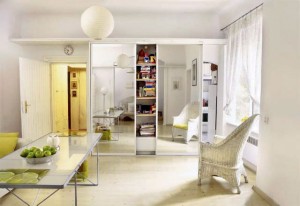 Paint is one of the most versatile tools in interior decorating. You can mix colors, change color schemes, add contrast colors, and use many other different techniques to create many different atmospheres.
Here are a couple things you can do with paint and light to create a wide, airy atmosphere:
Paint in light colors. Light colors reflect light and create an illusion of extra space, whereas dark tones absorb light and shrink space.
Use a monochromatic color scheme. Too many dramatic changes in a color palette can create a feeling of clutter.
Use light to create more space. The more light that enters a room, the more the walls will reflect the light and illuminate every corner of the room. Light creates a feeling of space and of natural ambience.
Use mirrors. Mirrors create depth in a room and reflect more light, creating the impression of more space.
Paint trim and mouldings lighter than the walls. Painting trim lighter than the walls creates a reverse shadow effect, making the walls seem like they extend farther back.
Using these techniques maximizes paint and light to create a brighter and more spacious environment.
Kennedy Painting provides professional and expert service to St. Louis. If you have any questions about painting or home maintenance, call us at 314-952-0156.