Eggshell Paint is not Eggshell Colored
---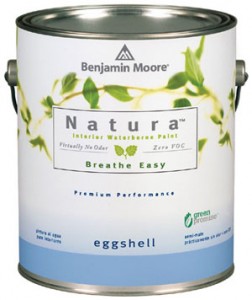 Many homeowners buy 'eggshell' paint thinking that it is a nice off-white color, however, it is in fact a sheen title and not a color.
Eggshell paint gets its name from the appearance of an egg; at first glance an egg's shell looks flat, but from an angle, it actually has a slight sheen. The sheen or gloss level of paint is measured numerically, with the scale of numbers representing mirror-like quality (0 being completely flat and 100 being a perfectly smooth, mirror-like surface). Generally speaking, a flat sheen would be from 0 to 5; eggshell would be anywhere from 5 to 35, semigloss would be from 35 to 70.
Typically, eggshell paint is used because it is durable and easy to clean. Eggshell paint has more resin (which is the latex 'glue' that holds everything together) than flat paint which makes it more suitable for frequently visited rooms, but not for high-traffic areas. For example, an eggshell finish is preferred in dining rooms and living rooms, but not in kitchens or bathrooms.
If you have any further questions regarding paint sheen or what type of paint you should use in your home, give Kennedy Painting a call at 314-952-0156. Our paint experts will be glad to answer any questions you may have.