Interior Decorating Trends for Spring 2012
---
Coordinate your paint and furniture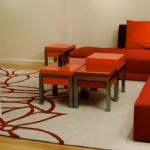 When considering design for your interior spaces, look at your favorite items in the room. Is there a special rug, an elegant armchair or an antique vase that you would like to highlight? You can make these articles stand out in a harmonious way using a few simple principles.
There are two good ways to make your furniture stand out:
contrast
similarity
If your furniture item has a single dominant color, you can show it off by using a complementary (opposite) color on one – or all – of the walls. An example could be a red couch in a green room. If the chair or lamp is bright and bold, stick with a neutral wall color. On the other hand, if the item is calm and neutral, use a bolder color on the walls.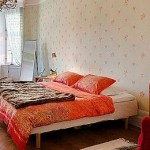 If you have a patterned or multi-colored piece of furniture to match, such as an ornamental rug, choose one of its recessive colors and use more of it in the room. This provides a feeling of harmony and brings out the details of your highlighted item. You could use it on the trim, curtains, throw pillows or even knickknacks. The room pictured here has the blanket color reflected in the wallpaper.
Call Kennedy Painting for a color consultation or a free estimate. All of our painters are thoroughly trained in color and design and will help you choose the best interior design option for your home.