Warson Woods Painting Contractors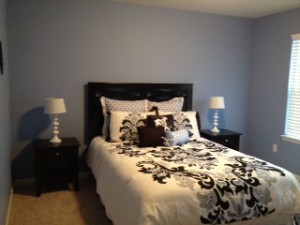 If you are thinking of painting the inside or outside of you home, or have other painting needs, take time to look for a painting contractor, and at least get an estimate for their services. Painting contractors can often look at your home, interior or exterior, and make suggestions on color, texturing, and new design finishes that you may not have thought of (or that are new on the market). A Warson Woods house painter can also suggest the best and longest lasting type of paint to use based on lifestyle and climate.
It doesn't hurt to do some cost comparisons, or to try and negotiate a better price if you think an estimate is too high. Shopping and comparing can give you a better understanding of what the local market is for painting services, and can give you some negotiating power when talking about costs. Remember that cheaper is not always better. Some painting contractors may try to cut corners to save a few dollars.
If you want your next painting project to be finished quickly, and to have those extra finishing touches that make your home look wonderful, consider painting contractors. They can make your next painting project much more enjoyable, without the stress of doing-it-yourself.
Our Painting Services
Exterior Painting
Interior Painting
Power Washing
Plaster & Drywall
Wallpaper Removal
Deck & Fence Staining
Commercial Painting
Color Consultations
Painter For A Day
What Our Warson Woods Customers Are Saying About Us
Kennedy Painting appreciates your feedback. Please give us more time to collect your reviews and they will be displayed below.
---
Recent Articles
Bathroom Repainting in University City, MO

This project was for a couple in University City, Missouri. They are selling, but bought the home with the very small awkward bath in this condition.  There were green vinyl tiles individually glued onto the wall, so they wanted us to make it more modern and aesthetically pleasing. before Project Description It took about…

Read More

Dry Fall Commercial Painting Project in Hazelwood, MO

This is a project we did in Hazelwood, MO, over 2 days in a food manufacturing and processing facility. Due to the sensitivity of the food preparation areas, site isolation and clean up was crucial in this painting project.First, we began by isolating the area to be coated with the DryFog paint with thick plastic…

Read More

If you would like to speak with one of our expert painters in Warson Woods call us today at 314-952-0156 or fill out our online request form.