St. Louis Painting Contractors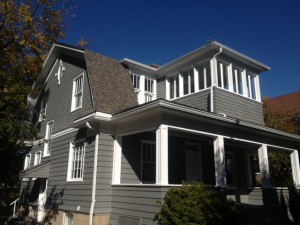 Hiring a St. Louis house painter should involve more than just making a few phone calls and picking out colors. After all, these painters will spend several days or weeks remodeling your house and working around all your prized possessions.
There are few licensing requirements or governing boards, and the cost of entering the profession is minimal. The unfortunate result of this is that a high percentage of those who call themselves painting professional are unqualified opportunists who would like nothing more than to repaint your Gresham home every three to four years.
At Kennedy Painting , our St. Louis painting contractors are fully qualified to handle any project, and our crew is comprised of experienced, professional and courteous painters that will ensure your complete satisfaction with your interior or exterior painting project.
Our Painting Services
Exterior Painting
Interior Painting
Power Washing
Plaster & Drywall
Wallpaper Removal
Deck & Fence Staining
Commercial Painting
Color Consultations
Painter For A Day
What Our St. Louis Customers Are Saying About Us
---
Great job! Easy to work with.

---



A friend of mine recommended Kennedy Painting. Sean Kennedy came out and gave me a quote. From the start they were great to work with. Ric came out with his team and did an excellent job. They were extremely courteous and after the job was done Ric called a day later and made sure we were still happy and checked to make sure we didn't find anything that needed touching up. I am definitely going to use Kennedy Painting again in the future.

---



We hired Kennedy Painting to repair and paint the ceilings in three rooms of our house. The team was AMAZING from start to finish of our project. They explained what they would be doing each day and were always on time. We, by far, had the best experience with Kennedy Painting over any other "home improvement" company that we have hired. I would highly recommend Kennedy Painting to anyone looking for a high quality job complete with excellent customer service.

---



The painting work was on the exterior trim of my brick home. Very professional effort, done without any issues.

---



Overall it went very well. Sean's crew did an outstanding job. Bottom-line is I would highly recommend Kennedy Painting to anyone. Sean is a good guy who will make sure your job is done right.

---



Sean and his crew did the job right. I can finally stand to spend time in my kitchen and bathroom. I sigh with relief because the rooms were professionally painted this time around. Kennedy Painting "takes care of you". From the color expert to the crew who do the job, they listen to you and answer all of your questions. They arrive when they say they will, and you don't have to wonder when the job will be finished. They get an A+ from me for the work they did and the customer service they provided. It's unfortunate that I didn't use Kennedy Painting from the beginning on my house, but the good news is -- I found an excellent painter who I can use over and over again for all of my future painting projects. As soon as I save more money for home repairs, I will be calling Sean back to re-paint the rest of the house. It's a relief to know that, at least where painters are concerned, I'll never have to search for another company. Kennedy Painting is IT!

---



Great! We were so pleased when we met with Sean; he was so detail oriented. He gave me the proposal very quickly and was able to schedule the work for the following week. It only took his workers two days to complete our job. I was also impressed with how tidy they were while in the middle of completing our job; they also cleaned up well before they left! We were so pleased with this company and we have recommended them to our family members and friends!

---



Also I'd just like to reiterate how exceptional the service has been with all of the projects completed by Kennedy Painting both big and small. In every instance the follow up and commitment to providing excellent work has been outstanding. The team at Kennedy Painting knows how to do things the right way. Truly not something we encounter too often. It is appreciated.

---



They were helpful, polite and professional. The work was completed on schedule, and they were even patient with our difficulty in selecting colors and needing to repaint when the first selection did not work.

---



Recent Articles
Should I Paint or Stain My Fence? Outdoor Painting Tips for Glendale, MO.

We definitely recommend staining over painting. While there are good quality exterior latex paints, in regards to your wooden fence staining is the better way to go.Cracking or Fading? The Lesser of Two Evils with an Aging Wood Fence. (more…)

Read More

What Are the Most Popular Kitchen Cabinet Colors?

There's no denying that kitchen cabinet painting is enjoying an unprecedented level of popularity. You only need to click over to your favorite home improvement resources (like Houzz.com) for endless inspiration and example after example of transformed spaces. Why? Well, there are a few key benefits to keep in mind: You can choose any color…

Read More

If you would like to speak with one of our expert painters in St. Louis, call us today at 314-952-0156 or fill out our online request form.