YOUR EXTERIOR PAINTING CONTRACTOR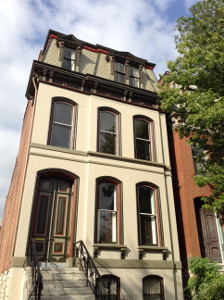 A quality exterior paint job will restore the beauty of your home and protect it for many years. To achieve this for our customers, Kennedy Painting does not cut any corners; at every step, we use nothing but proper techniques and premium products. With excellent craftsmanship and attention to detail, we will make your St. Louis area home shine!
Our Exterior Painting Process:
Complete exterior power washing to remove loose paint, dirt, and debris.
Sanding and scraping all areas with peeling or loose paint.
Replacing any damaged or rotten trim.
Filling holes and cracks to create a uniform surface.
Carefully protecting all home features and plants with tape and tarps.
Painting your home with the finest products available.
Final touch-up of details and thorough cleanup.
Why Choose Us As Your St. Louis Exterior Painting Contractor
With over 15 years of experience serving the needs of the St. Louis area, we know exactly what it takes to get the job done right with providing the best in whole home painting solutions. We take great pride in the quality of our workmanship and sustaining a strong reputation with our customers, which is a must as a successful locally owned and operated business. We even offer complimentary project estimates so there will be no rude surprises when it comes time to pay your bill.
All of our work is guaranteed, and we are members of the BBB A+, NAPP, as well as the Painting & Decorating Contractors of America. You get only the best in professional service when you call on one of our painting contractor. Make certain that you get work performed at an A+ rating by calling on the professional team of St. Louis painters at Kennedy Painting.
The Strength of Our Service
2 Year Gaurantee
Special Maintenance Programs
BBB A+ Accredited
Premium-Quality Materials
View Exterior Painting Photos
Read Recent Articles
4 Surprising Benefits of Exterior Painting Before Winter in St. Louis

If you're a little upset that we just mentioned winter while it's still August, we understand. But, as unwelcome as it might be, it's not uncalled for. We may be just barely stepping from summer into a new school year, but, if we've learned anything from past years, it's that the hop from summer to…

Read More

Should I Paint My St. Louis Home This Fall?

Fall is the season to save on exterior house painting! Did you know that planning a professional exterior paint job in the Fall can actually save you more money than any other season? Fall offers unique opportunities to save BIG: Keeping heat IN and cold air OUT is a challenge for every St. Louis homeowner.…

Read More

If you are in need of the best St. Louis Exterior Painting services, please call us at 314-952-0156.