Popular Kitchen Cabinet Colors and Styles
---
Are you in a painting mood?
If so, you aren't alone. Winter is a perfect time for painting, offering an outlet for creativity and a needed agent of change. A new year is also a fun opportunity to look at what others are doing, and evaluate the color trends that are popping up in homes all around the country.
As we discussed recently, one extremely popular home painting investment is the practice of painting kitchen cabinets. For more details about the practical benefits, click over to our recent blog: Why Paint the Kitchen Cabinets In Your St. Louis Home? We Have Three Good Reasons.
Today, let's take a closer look at a few of the most popular cabinet color and style trends. Who knows? We might strike on a little inspiration for your next project.
White Kitchen Cabinets
Why mess with a good thing? White (or off-white) cabinets can be absolutely stunning, and are really timeless. Combine this with the fact that white plays well with a huge variety of countertop, backsplash, and flooring materials, and it becomes a home run.
You won't even have to worry about it clashing with your apron.
Grey – Clean, Stylish, and Classic
Grey is not only very stylish, but it also is one word that describes a whole spectrum of color options. From icy pale grey to stormy charcoal, you can have a lot of fun finding the perfect style for your home. Just remember that darker grey is better in places that have the benefit of plenty of light.
Turn Your Kitchen Island Into an Accent Piece
Uniformity isn't a rule when it comes to choosing spectacular kitchen colors. As an example, take a look at this kitchen islands below. Notice that they offer a subtle point of color contrast? This is a very effective way to make your kitchen unique.
Different Colors for Upper and Lower Cabinetry – Why Not?
Speaking of kitchen island accent colors, who says that your upper and lower cabinets need to match? Sporting two complementary colors can create a very beautiful effect.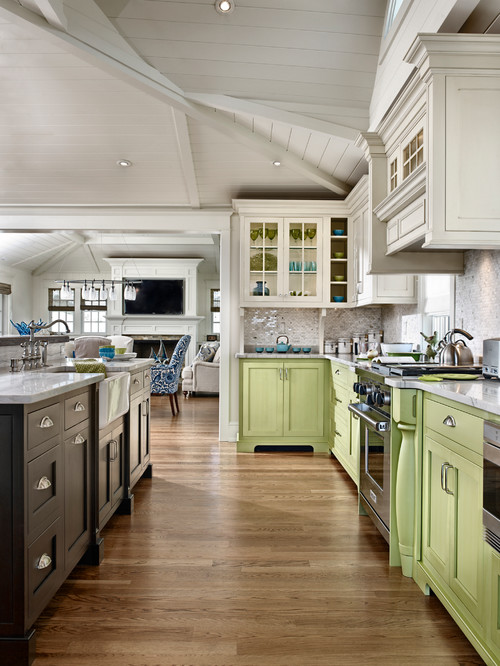 Are Bold Cabinet Colors Popular?
First, be careful to not get too caught up in trends. Our philosophy (and we think it's a good one) is that if you love a color and you aren't painting with the intention of selling right away, then it's the right color. Paint what you love, and love what you paint.
With that said, bold cabinet colors are popular but they also definitely fall into the category of trendy. If you are looking for a timeless option, a bright, vibrant color might not be the best. Colors in the family of white and grey are safer, more enduring alternatives.
Can we help with your next painting project? If so, please don't hesitate to contact us at Kennedy Painting today.