Molding Painting and Installation in Your St. Louis Home – Here's What You Need to Know!
---
Are you looking for a way to add a whole new dimension of style to your home's interior spaces? While painting is certainly one way to do this, have you ever considered molding installation and/or painting? You might be surprised by how much elegance and depth can be added!
Painting Your Existing Trim Molding
Before we get into the topic of more customized molding installation options, let's talk about any molding that you may already have. Typically a room has baseboard molding at a minimum, serving as perimeter trim that creates a crisp border around the edges of the space. While it often blends in with the wall or barely stands out at all, adding a coat or two of paint can yield a stunning contrast.
As an example, take a look at this photo: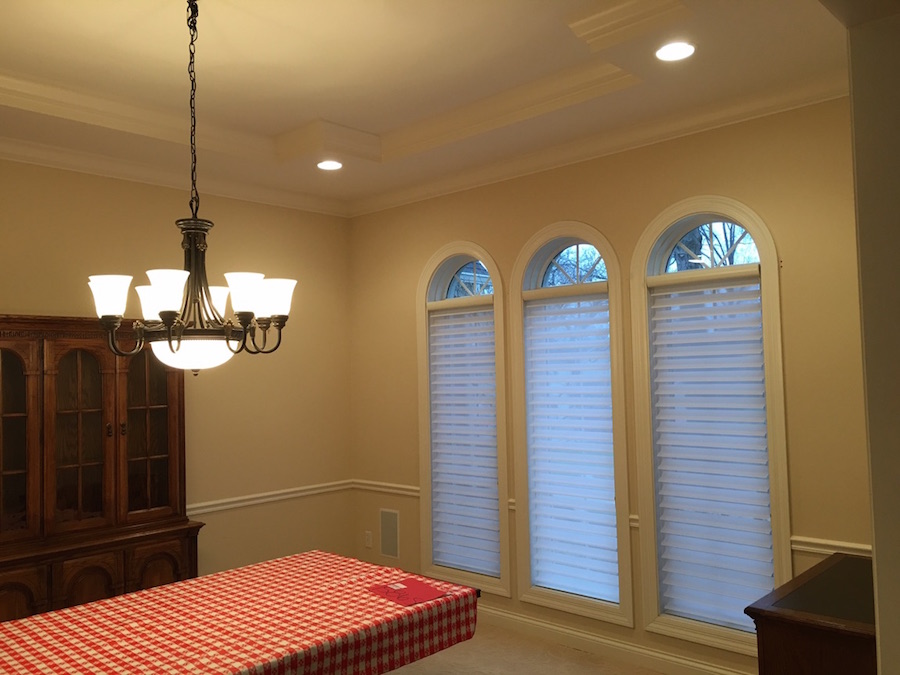 This is a pretty room, isn't it? Tall ceiling, nice lines, and unique windows.
Now look at how this same room changed after we painted the walls a darker color and the trim a gleaming white. The contrast makes all of the unique features stand out, from the elevated ceiling to the gorgeous windows. And, did you even notice the strip of chair rail molding in the first photo? Probably not, but it certainly pops now.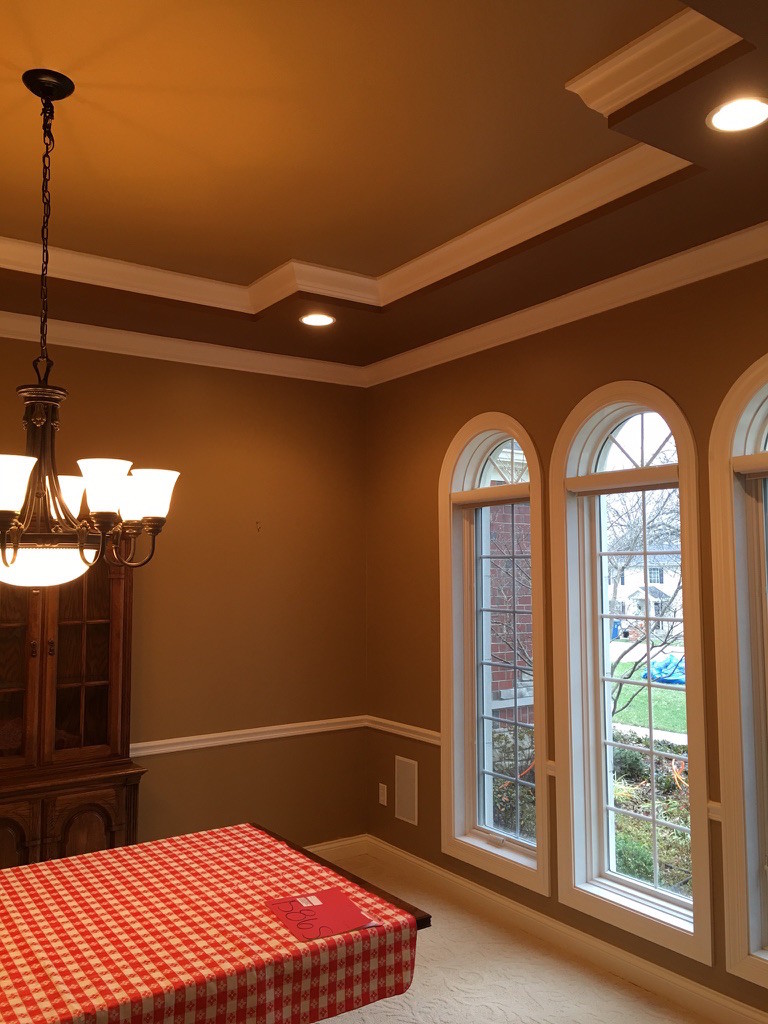 Installing Crown Molding Above Kitchen Cabinets
Another way to let molding add to the beauty of your home is by installing crown molding over your kitchen cabinets. While crown can be stained or left natural, depending on your stylistic choice, it also can be strategically painted to match or complement your cabinetry. Either way, it certainly creates a beautiful and smooth point of connection with the ceiling.
Have You Ever Considered Installing Picture Rail?
If you love timeless features that give a nod to styles of decades (and even centuries) past, a picture rail may be just what you're looking for. Similar to crown molding, picture rail is installed around the upper perimeter of the room under the ceiling. Not only is it an attractive addition to the space, but (and here's where it derives its name) it allows artwork and decorations to be easily hung from it by a hook.
What Can Wainscoting Add to Your Home?
Wainscoting is customizable wood paneling that runs along the lower part of your walls. Think of it as trim molding that is considerably taller and has incredible potential.
A timeless, tried-and-true look, the use of wainscoting reaches back to colonial days, and was originally used to protect the walls from damage. That purpose is still a benefit today, but most often there is a stylistic motivation behind its inclusion. And, it's easy to see why!
Installing Wood Casing Around Drywall Window Returns
Many windows today have a plain aesthetic because of standard drywall window returns. This can be remedied by a skilled carpenter with the installation of trim around the perimeter of the window. It adds a unique, attractive, classic style.
Should You Paint or Install Trim Yourself?
Many homeowners leap into trim installation and/or painting projects themselves. This technically can be a do-it-yourself project, but there are a couple of things to keep in mind.
First, professionals on Youtube and home improvement shows might make the process look easy, but measuring, cutting, and installing trim requires unique carpentry tools and experience. And beyond that, it is an extremely unforgiving project. Gaps and poorly-fitted seams turn what might have been an elegant style into a DIY nightmare.
Painting trim offers a similar scenario. It's equally as unforgiving, and requires precision, patience, and a very steady hand (especially if your trim is already installed). Trim also typically calls for a higher-gloss paint which is a little tougher to work with, and drips, spills, and other mistakes are difficult to clean up.
Do we say all this to be a wet blanket? Definitely not! Home improvement is a rewarding adventure. It is, however, important to know exactly what your project will involve, and go into the process with your eyes wide open. Hiring a professional painter, and especially one that can also help with your trim installation needs, is often a wise, headache-free alternative.
If you live in the St. Louis area, why not contact us at Kennedy Painting? We would love to answer any questions you might have and put our years of experience to work for you.