What Are the Benefits of Power Washing Your St. Louis Home?
---
They say a picture is worth a thousand words…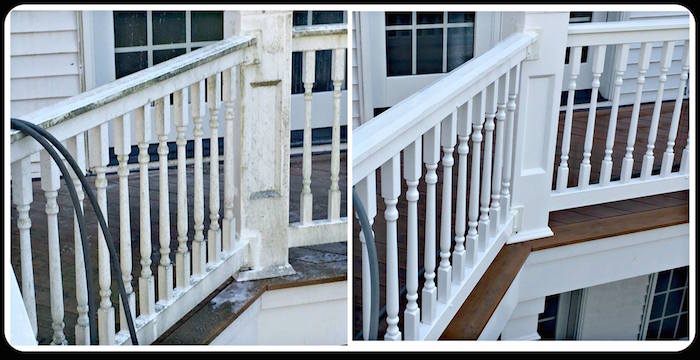 So, what is the picture above telling you?
Well, it might just be saying that it's time to power wash your house.
Why Power Wash Your Home's Surfaces?
Just like rain does a terrible job washing your car, factors like rain, mold, mildew, chimney soot, dirt, and other contaminants are all working overtime to obscure your home's finish. In fact, beyond just looking less than desirable, these contaminants also are actively breaking down the surface, shortening the lifespan of your paint and stain.
Professional power washing will help to remove these little paint-haters, restoring a fresh, beautiful finish in the process. In fact, as you can see above, you may even be surprised by how solid and attractive your home's surfaces really are!
What Should You Power Wash?
Here are a few key surfaces to consider:
Decks

Patios

Siding

Walkways

Driveways

Poolside spaces

Outdoor kitchens and cooking areas

Porches and railings

…and more!
Should You Hire a Professional Or Tackle Your Project Yourself?
Power washing equipment is readily available; there's no doubt about it.
But here's a word of caution: without the right knowledge and expertise, the incredibly powerful stream of water can often harm you and/or your home's surfaces. Water damage can also occur if you aren't actively watching for weak points and avoiding sections where water can gain access.
Contact Your St. Louis Painting Company Today for Your Power Washing Needs!
We're here to help, and to make home maintenance simpler and a guaranteed great experience. Contact the Kennedy Painting team today!