4 Common Painting Mistakes to Avoid
---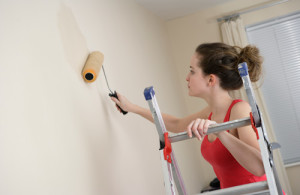 There are many facets to good quality painting, some of which are easy to overlook. Here are four mistakes people commonly make that compromise the quality of their paint job.
Common Painting Mistakes
Buying cheap, low-quality paint. The saying: "You get what you pay for," is undeniably true with paint. High-quality, 100% acrylic latex paints adhere better, look crisper and last longer than low-cost paints.
Doing inadequate surface preparation. Paint applied on surfaces that haven't been prepared properly will peel, fade, acquire mildew and absorb dirt quickly after painting. Proper surface preparation includes washing walls and woodwork, caulking, sanding and priming. Follow our steps to proper surface preparation, and your paint job will look beautiful and last long-term.
Purchasing low-quality brushes and rollers. As with paint, you get what you pay for with brushes and rollers. Low-quality paint applicators will make your job more difficult and affect the finished appearance of paint. High-quality brushes and rollers will allow you to more easily apply the paint and will produce thicker, smoother and more uniform coats of paint.
Painting the exterior in the wrong weather conditions. Even the best quality exterior paint can be compromised when used in the wrong weather conditions. Bad weather conditions would be when it is very hot, cold, windy or rainy. The best weather conditions for painting would be a mild day 50 to 85 degrees with low humidity and no chance of rain.
These are easy mistakes to avoid when you invest in the best quality paint and tools, throughly prepare the surfaces and pay attention to the weather when painting outdoors.
If you have questions about proper surface preparation or which paint products are high quality, call Kennedy Painting at 314-952-0156.