Wood End Table Repainting with Chevron Pattern
---
Accent Painting
Have you ever walked into someone's house and they had a great accent wall with a lot of detail and think, "that had to take forever!" You might have the perfect place in your home you would love to add a little extra pop, but don't have the patience or time to try it.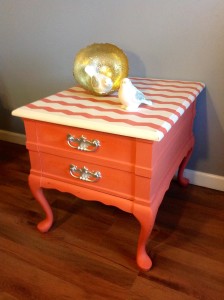 Taking on such a large project can be very overwhelming but FrogTape has finally come to the rescue! You might have heard of them before, they created the green painters tape that is treated with patented PaintBlock Technology, a super absorbent polymer that reacts with the water in latex paint and instantly gels to form a micro-barrier that seals the edges of the tape. They have now taken that a step forward and created Shape Tape. Using that same PaintBlock Technology, Shape Tape comes in three pre cut patterns to make any project a breeze. With the chevron, wave and scallop patterns you can even combine them to create any pattern you could think of.
Chevron Experiment Project & How To
We decided to test it out and see how it worked. This was our process:
We took an old end table, gave it a fresh new coat of paint (be sure to use a latex based paint), and went to work.
The total process of the tape took less than 30 minutes. First, we cut the strips to the length we needed.  Then, we peeled one side of the tape, lay it in place, peeled the other side and then used a card to smooth out any bubbles. We did this over the entire top of the table. Then, it was time to paint!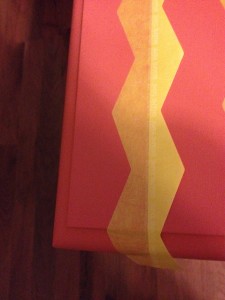 I would recommend painting from the middle of the tape out, this helps seal the tape and not push against the edges. Remove the tape while the paint is still wet to prevent any breaks in the lines.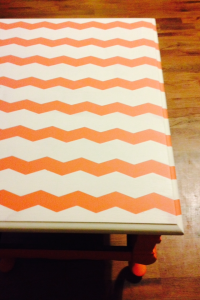 Overall this product was exactly what we expected! Once you get the hang of it, you will be adding accents on everything. This product can be used on almost any flat surface. This means you are not just stuck with walls or furniture, you can also use it on fabric, glass, porcelain, metal, you name it! At only $13.99 for 25 yards the possibilities are endless.
Products Used:
If you have any questions about this project, or if you would like to hire Kennedy Painting for a painting project, call us at 314-952-0156.