Winter Is a Chance for Fun Interior Painting and Home Improvement Projects
---
Leading up to the holidays, winter can be a lot of fun. There is a certain spark and magic in the cold, crisp air that never really visits during any other time of year. As the season wears on, however, it can start to feel long, the cold less invigorating (just plain cold), and you might get bogged down in unrealized goals. This leads to the "winter blahs" (yes, that's the technical term for it).
Why not make winter something different this year?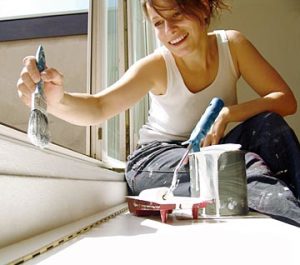 Winter Is More than a Season – It's an Opportunity!
This is a chance to take on manageable home improvement and interior painting projects that will leave you feeling accomplished, and your home looking better than ever. Here are 5 ideas to consider:
Interior painting – The sky's the limit! You can start small by tackling an accent wall, or maybe painting a decorative piece of furniture. If you're worried about fumes, ask your paint supplier or professional interior painter about using Low-VOC paint. This is an environmentally friendly, low-odor option.
Refinish your doors – Take a close look. Do you see the dings, marks, and smudges? Interior doors count as high-traffic areas in your home, being pushed, banged, and maybe even occasionally slammed open and shut. Either painting or staining them will make an incredible difference, and you can work at your own pace.
Install a backsplash – This is an amazing, budget-friendly way to make a huge stylistic change in your kitchen. And, with the hundreds of options out there, you can create just the look you have in mind. If you aren't sure where to start, take a look at other kitchen backsplash designs, and then get to work on your own.
Organization – Do you have a closet that you are just a little afraid to even touch? Invest in some plastic storage containers, brew a fresh cup of coffee (or maybe a full pot), and start working during your next free afternoon. You'll feel great, and who knows? You might discover that you have more space than you think you do!
Play with lighting – Have a dark room, or maybe you'd like a way to fight the seasonally shorter days? Add a few lights! Track lighting is a great way to strategically illuminate a space; aiming the light exactly where you need it most.
Our Winter Coat Sale!
If you live in our neck of the woods (here are our service areas), you might also be interested in the fact that we are offering 10% off all interior painting projects booked in November and December to be completed during the months of January and February.* This is our way of not only providing an extra bit of incentive to tackle those interior projects this winter, but also to help keep our awesome team employed and busy during a typically slower time of year.
If you have any questions for us, either about our Winter Coat Sale or any of our services in general, please do not hesitate to ask! We would love to hear from you and to help however we can.
*-Applies to new contracts only, -Work must be booked, with a signed contract and paid deposit by 12/15/2014, -Work must be scheduled for completion in the months of January or February, 2015