How To Sponge-Paint A Room
---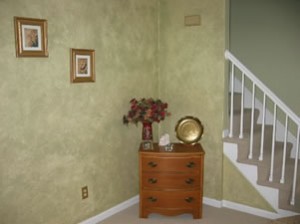 Sponge painting is one of the most basic faux finishes, and is a great technique for adding depth and color to a room. Some of the best places to sponge paint are:
Plain rooms
Closets
Bathrooms
Anywhere you want to add visual interest.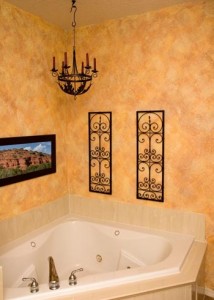 Here is the step by step process of sponge painting:
Buy a natural sea sponge, a faux glaze, and two different paint colors, they can either be similar in color or contrasting colors (one for the background color, and one for the sponged glaze).
Paint the base coat and let it dry.
Mix the second paint color with the glaze (usually 2 parts glaze to 1 part paint, however, you can adjust the mixture for a lighter or darker result by using more glaze for a lighter color and less glaze for a darker color).
Get the sea sponge wet and wring it out so it is slightly damp (a sea sponge is used instead of a normal sponge because the holes are more random and produce a better texture).
Dip the sponge into the glaze so that it is lightly coated in paint. Dab the sponge on a paper towel if there is too much excess paint on the sponge.
Start at the least noticeable corner of the room and dab the sponge on the wall.
Rotate the sponge, and overlap the glaze print so the pattern is varied. Work around the room in a consistent, but random, pattern.
When you get to the corners of the room, cut off a little part of the sponge (about 2-3 inches in diameter and length), and dab it on the wall just as you have been doing on the rest of the wall.
As you approach the area where you began, connect the sponge pattern by dabbing the sponge over the line of where you started, to create a seam that appears natural and random.
When you finish, stand back from the room to make sure the whole room has a similar amount of undercoat and glaze showing. You may want to repeat the sponge pattern to darken the texture.
Call Kennedy Painting at 314-952-0156 if you have any questions, or if you get stuck. We are dedicated to providing professional and quality service to the homeowners of St. Louis.