How To Paint Shadow Stripes
---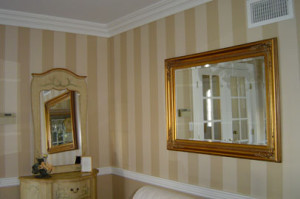 Shadow striping is a decorative painting technique that is becoming more and more popular for homes in St. Louis. Like most forms of faux-painting, shadow-striping evokes an elegant atmosphere. Shadow Stripes are most often used in dining rooms, living rooms, and powder rooms. However, they work well for any room in which you want to achieve subtle sophistication.
So, how do you paint shadow stripes?
Well first of all, what are shadow stripes exactly? Shadow Stripes are vertical stripes that go along a wall or around an entire room, usually 4-10 inches in width, which alternate in a pattern of glossy and satin stripes. Shadow stripes usually alternate in the same color, but different sheens. However, for those who want a dramatic effect, it's becoming more popular to choose complementing colors or contrasting colors, such as black and white.
Here are the simple steps for shadow striping:
Paint your entire walls with the color of your choice in a satin or eggshell finish.
When the paint is completely dry, begin taping your stripes with thick blue painters tape, to mark the edges of where your glossy stripes will go. When you come to the corners, just continue the stripe around the corners, so that each stripe is the same width. Be sure to measure meticulously so you get straight lines. Also, make sure you press the tape down firmly so that the paint doesn't seep under the paint.
Paint the glossy stripes and remove the tape before the paint dries, so that you don't tear the paint.
Enjoy your classy walls!
The process is simple, but it also requires scrupulous attention to detail. If you have any questions, call Kennedy Painting at 314-952-0156, or schedule a free estimate online. We are committed to providing quality paint services to the St. Louis community.