How to Get Rid of Old Paint Cans
---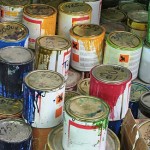 Paint cans are one of those items that people don't really know what to do with once they don't need them anymore, especially when there is left over paint in the can.
Here are a couple of ways to get those old cans out of your house:
If you have oil paint you want to get rid of, it should only be disposed of at a hazardous waste disposal event. (They usually have local hazardous waste disposal drop-offs twice a year.)
Look for a charity group such as Habitat for Humanity to donate your unused paint to.
Now for the latex, acrylic and water-based paint you can't get rid of, after you let it dry out, you can simply just throw it away.
There are a couple problems with just taking off the lids and letting the paint dry out on it's own though. First of all, it is potentially hazardous, and second it could take weeks or even months for the paint to dry out completely.
Here are the best ways to let the paint dry:
Get some paint hardener and add it to your paint.
Stir some kitty litter or other absorbent into your paint.
Collect some cardboard boxes, flatten them and paint them. After they dry out, you can throw away the boxes and empty paint cans like any other garbage.
Let us know in the comments if you know of any other creative ways to dry paint. What have you found is the best method for getting rid of all your extra paint?