How to Create a Child-Safe Nursery
---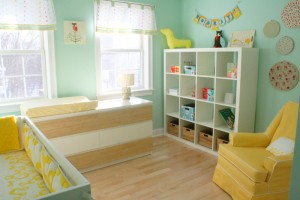 If your nursery decorating plans involve painting walls, it is vitally important to use a child-safe paint. There are many harmful paints on the market, so it is important to look into the new paints that are baby-safe, non-flammable and not chemically harmful.
Normal latex and oil-based paint contain harmful solvents and VOC's (Volatile Organic Compounds) that pose possible long-term problems for the kidneys, liver, or the central nervous system. Stay away for any oil-based or toxin-filled paint. Any paint that has a strong odor is likely filled with VOC's, (this is true for not just paint, but also carpets; so it is advisable to look into safe carpets or flooring for your nursery).
Using zero-VOC paint is the best way to ensure you are creating a safe environment for your child. No-VOC paints are ideal for parents seeking a child-safe, eco-friendly nursery. Not only are no-VOC paints safer to use, but they are also virtually odorless and easy-to-clean. Natura® by Benjamin Moore and Harmony® by Sherwin Williams are both great zero-VOC, nursery safe paints.
If you live in an older home, you should also test your home for lead paint. Lead poisoning has been recognized as a serious public health risk and is known to cause brain damage in children. Homes built before the late 70's are likely to have lead paint on the walls.
If you have any more questions about how to make your nursery child safe, call us at 314-952-0156. Kennedy Painting has been the leading painting company in St. Louis for many years, and is dedicated to providing exceptional and dependable service. Visit our website to schedule a free estimate today.