How do you clean scuff marks?
---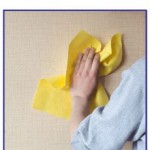 Often only a short time after repainting a room, scuff marks begin to appear on newly the painted surfaces. You may ask yourself how walls seem to inevitably get dirty. Although scuff marks tend to look permanent, most spots can be cleaned with the right tools and with resolve to get the job done.
There are two types of scuff marks, residue or abrasion. Residue comes from things like rubber from a shoe sole, or from moving furniture and lightly brushing against a wall. Abrasions are usually harder to treat because they come from actually damaging the paint film.
On most walls if the scuff is residue, it can easily be cleaned with some soap and water. Use a clean, damp cloth, to apply low pressure in a circular motion. If the paint is hard (semi-gloss, latex, or an oil-based product) you can use a Magic Eraser to do the job.
When dealing with abrasions, start by cleaning with soap and water. If not successful, the best way to get rid of the marks is to paint the wall again from corner to corner or end to end.
Kennedy Painting is a family-owned business located in St. Louis. We would be happy to discuss any painting needs you may have; give us a call at 314.952.0156.