Bedroom Painting in St. Louis
---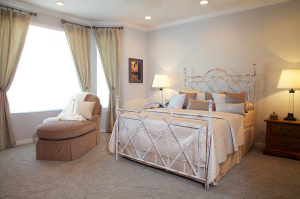 Painting is a pretty straight-forward task. However, all painting jobs involve much more than solely getting a paint can and a paint brush and painting a wall.
The Kennedy Painting Process
Like almost all interior painting jobs, painting a bedroom requires attention to each detail in the room.
When we paint a bedroom, we follow this process to ensure premium, long-lasting results.
Project Planning. Our customer tells us what they want and we discuss with them the best implementation plan for their ideas.
Cleaning the surfaces. We want to remove and dust or dirt that may inhibit paint from adhering properly or compromise the quality of the paint job.
Moving/Protecting furniture and masking floor. It is our top priority to respect and protect each home we work in, so we make sure all the flooring and furnishings are properly protected from start to finish.
Preparing the surfaces. To maximize the life of each paint job we employ meticulous surface preparation, which includes scraping loose paint, sanding and smoothing the surfaces, filling in holes, repairing damaged drywall and priming the surfaces.
Painting ceiling, trim and walls. For bedroom painting we use low-VOC or no-VOC paint to ensure that no harmful chemicals are emitted in the room. Depending on how many coats we're painting and how much trim there is in a room, this step can take a full day. All of our painters are proficient in meticulous paint application.
Daily Protocol. We make sure the work site is clean and orderly through the whole process. If it is a several day job, we store the tools, clean up trash and debris at the end of each work day to keep the room safe and clean. We also update the customer daily on the progress of the project by whichever method he or she prefers.
If you have more questions about painting, let us know. We are here to serve the St. Louis area. Call us at 314.952.0156, or contact us online to schedule a free estimate for your home.