7 Paint Colors for a Soothing Bedroom
---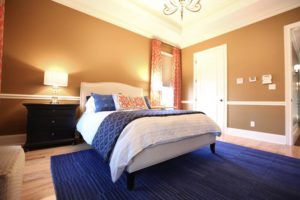 Your home should be a soothing and inviting place for you to leave the cares of the busy world behind you. Your bedroom in particular should be a restorative, restful, and relaxing retreat for your body and mind. The right shade of paint can go a long way towards creating the soothing atmosphere that you deserve. Whether you are buying a new St. Louis home or updating your existing one, consider one of these seven great colors to turn your bedroom into the calm oasis you need. When you have picked a color and are ready to begin your project, contact the professional painters at Kennedy Painting to ensure a lasting and beautiful paint job.
Sky Blue
A delicate shade of sky blue can be just the color to bring a tranquil vibe to your bedroom. Paired with soft white trim, it evokes the feeling of peace that comes from sitting by a lake on a sunny spring day. Blue has a reputation for being a stress-relieving color, so it would make a great choice for any bedroom. Sky blue pairs well with white or natural wood furniture. Alternatively, if you want something a little less traditional you could pair it with gray furniture. This shade of blue is so versatile that the sky is the limit when it comes to soothing design ideas for your bedroom.
Pale Green
A pale, soft green shade is relaxing and refreshing at the same time. Known for its calming and stress-relieving properties, pale green brings to mind a lush valley of flowers. For decorating purposes, pale green is a great choice that can pair well with earthy neutrals, vibrant jewel tones, or even other pale, soothing color choices. Light green also makes a great color choice for a calming, gender-neutral nursery scheme.
White
White may seem like a surprising or boring color choice for a bedroom, but anybody who has looked at paint swatches knows there are many different shades of white. White, done right, can create a very calming environment in any room. The key is to consider the lighting situation in your bedroom. If you have an abundance of natural light, it may be a smart choice to consider a warm shade of white. If you have a bedroom that is a bit dark, a cool white shade can help brighten it up a bit. If you choose a white bedroom, you have a wide variety of cozy decorating ideas to choose from. If you chose to hang plants, the greenery will stand out nicely against the white walls. Additionally, you can opt for a white bedspread and rug, and to make the whole room feel clean and crisp. Add earth toned furniture and textiles for added warmth.
Warm Yellow
Yellow is a great, cheerful choice for any bedroom, as long as you are careful about what shade you select. You don't want to pick anything too bright or bold if you are aiming for a soothing environment. Similarly, you don't want to pick anything with unpleasant undertones. Consider a shade close to the color of straw or butter, which will warm your room up without overwhelming you. Paired with neutral furniture and accessories, yellow walls will make your bedroom feel welcoming and rejuvenating.
Lavender
Lavender, a lighter shade of purple with blue undertones, can be a soothing and attractive color for your bedroom walls. Colors in the purple family are sometimes considered a decorating risk, but lavender is the exception. Lavender can make your room feel open and airy when there is a lot of light in the room, but cozier and snug if the room is darkened. Lavender goes well with white and neutral décor, but can also be paired with pops of yellow, orange, or green for an exciting twist.
Light Gray
Gray comes in many wonderful shades. For a bedroom, it is typically best to stick with lighter colors because darker colors can make the room feel small and cramped. However, even among light grays there are a variety of shades, some cool and some warm. If you are unsure which gray will work for your room, some test patches may be helpful. In general, a warm light gray can make your bedroom feel both happy and relaxing. For decorating purposes, gray functions as a neutral, so most styles of furniture and décor would work well in a gray bedroom.
Soft Pink
Pink has a reputation for being for a little girl's bedroom, so some homeowners may never even consider painting their bedroom pink. However, a very soft, warm pink or even a peachier shade of pink can be a wonderful and soothing option for a room with lots of natural light. Balance the pink walls with some heavier, darker pieces of furniture, and lighten up the room with a white bedspread and neutral throw pillows for a decorating combination that is sure to come across as both relaxing and mature.
As with any major home project, you want to be sure that repainting your house is done correctly the first time. Additionally, you want to feel confident that your paint job will be long-lasting and high-quality. If you are considering painting your bedroom to make it into the tranquil oasis you have always wanted, please contact the professional St. Louis painters at Kennedy Painting to make get started today!
If you are looking for a Painting Contractor Company in the St. Louis area, please call Kennedy Painting at 314-952-0156 or fill out our online request form.