14 Must-Know's For Painting
---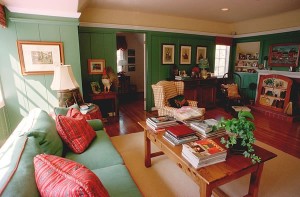 Painting is a meticulous job, so it helps to know what details are most commonly overlooked. If you refer to this list before you begin your project, hopefully you won't run into any difficulties.
1. Use Painters Tape.

Even the most experienced painters can accidentally go off-line when painting. Grab some painters tape to get clean lines and edges.
2. Don't Paint Without Primer.

When you don't use primer, the paint doesn't adhere as well and the color doesn't appear to be as vibrant. So for best results, use primer, or get a paint that is made to be used without primer.
3. Know How Much Paint You Need Before You Buy It.

The rule of thumb is 1 gallon for every 400 square feet. You don't want to run out of paint three-quarters way through a project; even if you go out to buy more of the exact same color sometimes you can tell when it's a new batch of paint.
4. Clean Your Walls Before Painting.

People don't usually think to wash their walls before painting, but paint looks much better when it has a good, clean surface to adhere to.
5. Don't Skip Surface Preparation.

Surface preparation, like sanding and filling in holes is just as important as making sure your walls are clean. The finished product always looks better if the surface was properly prepared.
6. Don't Rush.

The old saying: "haste makes waste" always holds true. Don't start sanding until the wall putty is dry, and don't do a second coat of paint until the first is dry. Otherwise you might have to redo all your work; in the end, it's worth it to not be hasty.
7. Have All the Needed Materials Before Starting.

If you run out to buy more supplies halfway through your project, it's more likely that you'll come back and forget a few details about where you left off. Doing a quick inventory before you begin painting is always worth it.
8. Don't Brush When You Should Roll.

When you are working with a large surface areas, it's always more efficient to roll. Brushing larger areas tends to leave brush-strokes that show even after the paint dries.
9. Paint With Low Humidity.

Paint doesn't set as well in humid air, so if it's humid, either put a dehumidifier in the room or wait a day or two to paint.
10. Use A Good Brush.

Make sure your brush is in good condition. If you're using latex paint, nylon/polyester bristles work best.
11. Eliminate Furniture When Painting.

The more furniture there is in a room, the more likely you will be to accidentally get paint on something. Try to move as much as you can out of the room before painting, and make sure the remaining items are completely covered.
12. Don't Forget To Protect the Floor.

It is nearly impossible to remove dry paint from a surface without damaging the surface, so be sure to cover up all of the floor with a drop-cloth.
13. Cover Door Knobs.

Unless you like the look of splattered door-knobs, we suggest you cover them up with some plastic while you paint.
14. Don't Paint the Wall Plates.

For the best-looking results, take a few extra minutes to remove the plates and tape around your light switches and electrical outlets.
Brush through this list before you start your project to be sure that you won't leave anything out. When doing a home-remodeling project it is well worth your while to do a thorough job from the start.
If you have any more questions, or would like an estimate for your project, let us know. Kennedy Painting is a family-owned business that services the St. Louis area, you can reach us at 314-952-0156.