What moulding would you install in a Dining Room?
---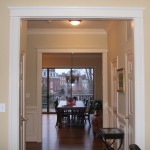 A Dining Room is the perfect candidate for decorative moulding. If done properly, certain types of moulding can add the perfect touch of sophistication to a Dining Room without changing the overall theme.
These are Mouldings most typically used in a Dining Room:
1. Crown Moulding
Crown moulding provides a visual transition from the wall to the ceiling. When you use custom moulding for your room rather than a typical design, this striking technique creates an old-world effect that truly distinguishes a fine room.
2. Ogee Moulding
Ogee mouldings are made to install 6-12 inches below the ceiling to create a visual break that coordinates with the crown above it. The ogee could be painted the same color as the crown moulding, or a contrasting color. Additionally, the open space between the ogee and crown can be painted differently to add a new dynamic design to your Dining Room.
3.  Chair Rail Moulding
Practical and decorative, Chair Rail is a great moulding that adds a nice simple accent to the room, while also protecting the wall from chair scratches and scuffs.
4. Base Moulding
Similar to Crown Moulding, Base Moulding provides that "finished look" for a room. Even if your Dining Room already has baseboard, you can always consider upgrading the base moulding to match nicely with the rest of the moulding project.
5. Panel Moulding
If you use chair rail with a nice base moulding, it would be in best taste to also use panel moulding. This serves as a union for the two elements while giving the room a more elegant feel.
6. Door and Window Casing
Using Moulding for Door and Window Casing is a great way to add elegance to an otherwise simple Dining Room.
Since the Dining Room is usually where you entertain guests, it is a great idea to use a few of these moulding techniques to add some unique qualities to your Dining Room and to give it new character and personality.
You can also use any of these moulding ideas for another room or hallway of the house to achieve an overall beautiful and elegant appearance in your home.
Installing moulding requires precision and careful attention to detail. A skilled do-it-yourselfer could manage installing almost any of these mouldings, but most homeowners hire a professional contractor.
Kennedy Painting is dedicated to providing St. Louis residents with attentive service, meticulous attention to detail and excellent results. Give us a call today at 314-952-0156, or contact us online to get a start on your project.