How to Use the Rag Painting Technique
---
Ragging is a faux painting technique that gives the appearance of a worn leather type look throughout a room. It is a relatively simple process, but takes more than just dipping a rag in a paint bucket and using it as a brush.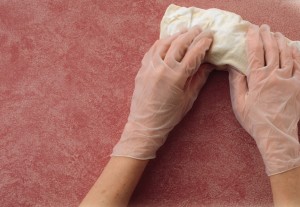 To produce this elegant effect, follow these steps:
Prepare your walls — Surface preparation is the foundation of your interior painting project. You must first properly clean, repair and sand your walls before beginning to paint. Also, be sure to cover your furniture and flooring and apply painter's tape before painting.
Prepare paint glaze mix — The right mixture of paint for ragging is 1 gallon latex glaze and 1 quart of matte finish paint (in whatever color you choose).
Apply glaze — After thoroughly mixing the paint and glaze, put on a pair of gloves and begin the application by taking a clean lint-free rag and forming it into a ball. Then gently dip the rag into the glaze and lightly dab the rag onto a corner of the wall. Go up and down the wall continuing to reshape and dip your rag in the paint throughout the process to create a random pattern. Continue this process until the whole wall is covered. If you want the paint to cover more wall, you can repeat the process until the desired density is achieved.
If you have any questions about ragging or other faux painting techniques, call Kennedy Painting at  314.952.0156.