When is too late for exterior refinishing in St. Louis?
---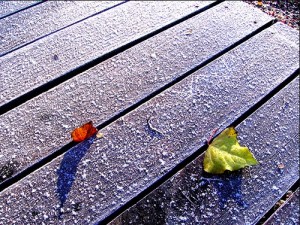 Late Spring, Summer and even early Autumn is a good time for exterior refinishing. But once we hit mid-October, postpone any exterior refinishing projects until Spring.
Why you should wait until Spring to refinish that deck or fence…
Just in case you wondered why the deck/fence season at Kennedy Painting is already closed out for the year – our lovely, ever-changing St. Louis weather is the answer! Besides the fact that our drought seems to be over, as soon as we experience morning dew, it's pretty much time to stop staining. For the best results, the wood needs to be clean and very dry to properly accept the stain. This is why, if we're doing your project, there is typically a two day delay between cleaning and staining on our schedule. If the wood contains too much moisture the result can be uneven and splotchy! If you've had deck repairs done recently, we realize it's hard to wait before you have it stained, but you'll be disappointed when that unseasoned wood, not having a chance to dry out, won't absorb the stain properly and looks totally different from your other wood. And we won't be happy with the results because you aren't happy!
But now is the time to have deck repairs done, so the new wood has time to properly season before Spring. Then it will be ready for Kennedy Painting to stain next Spring and you'll have a beautiful deck to enjoy next Summer!