How to Maintain Your Exterior Wood Items
---
Oftentimes homeowners wait until after damage has been done to preserve their outdoor wood items, such as gates, fences, decks, etc. But instead of letting the elements harshly deteriorate your woodwork over the years, you can greatly increase the life expectancy of your exterior wood by doing some thorough preparation work and applying several coats of quality paint.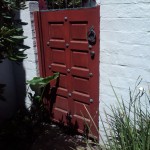 In the before and after pictures, the gate had originally been stained (red) and painted with a clear finish. Although it looks nice, it required much more maintenance and showed direct signs of aging. In the after picture, the gate was properly prepared and primed and then painted with several coats of quality paint.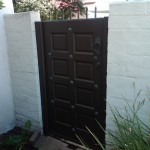 If you take the time to do some good prep work and use quality products, your exterior wood will look fresh for much longer and will be able to better withstand the elements.  If you live in the St. Louis area, give Kennedy Painting a call at 314-952-0156. Our painters who specialize in proper preparation and preservation of exterior wood items are here to help you.