Front Porch Ceiling Re-Painting in Tower Grove South
---
We recently worked on a unique project where the customer asked us to repaint her front porch ceiling. She had had a new bead board ceiling installed, stained and clear-finished, but it turned out not being what the customer wanted, so she asked us to refinish the ceiling with a darker stain to match the front door.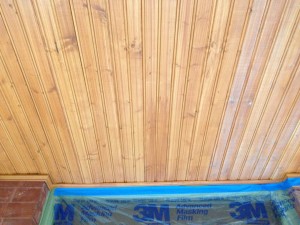 Project Process
Our project leader, Jeremy, was in charge of this project. The first step was to mask off the surrounding brick, trim, floor, etc. in preparation for applying new stain to the ceiling.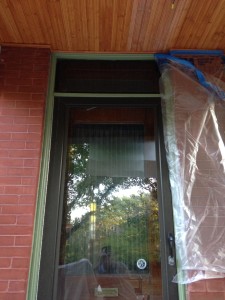 Next, we had to dull up the Polyurethane finish with scuff sanding to allow the Gel stain to stick. After sanding, Jeremy dusted the ceiling clean and began selecting and testing a color that would blend with the base color to match the front door. He selected an American Walnut Gel stain that produced the right color when applied with a brush and then removed/blended with a dry brush. We used a gel stain because it has more body to it and is easier to apply to the previous coating (not raw wood) and also for its ability to build up a deeper color more quickly.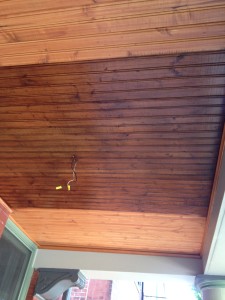 Once the full ceiling was coated and blended, we let the stain dry for several days. Since this type of project is not typically done in late fall, we had to wait for appropriate temperatures to apply the finishing Polyurethane. Once we had suitable temperatures (we were lucky to get a rare 66° November day), we applied 2 coats of Exterior SPAR urethane (semi-gloss) to seal the ceiling.
When we were finished with the project, we sent the customer pictures of the completed project (she was in NYC on business while we worked on the project). Her response to the finished result was: "I love it when a job is done better than expected. Thank you Kennedy Painting LLC for your hard work and dedication in bringing the ceiling back."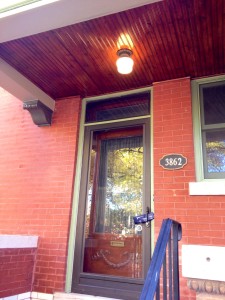 Project Summary
The products used cost about $50, we had one man working on the project who spent about 7 hours total on the project (3 trips, setup, breakdown, and application time). The project was in the Tower Grove South neighborhood, an area which has been undergoing a good revitalization effort over the past few years.
If you have a similar project, or other painting needs, call Kennedy painting at 314-952-0156 or contact us online.