Exterior Painting and Wood Repair in Ballwin, MO
---
A big part of any quality exterior painting job should be to make sure that what is under the paint is healthy and strong, not just hidden. If rotting or damaged wood is ignored, it creates larger issues down the road and really makes painting pointless! Think of it in terms of a car with a rust problem; the trouble spot needs to be removed, replaced, and repaired before it can be successfully painted and brought back to looking like new.
We recently were asked to repair and paint some exterior trouble-spots around a home in Ballwin, MO. Nate, our estimator, visited the property and took notes as he assessed the issues.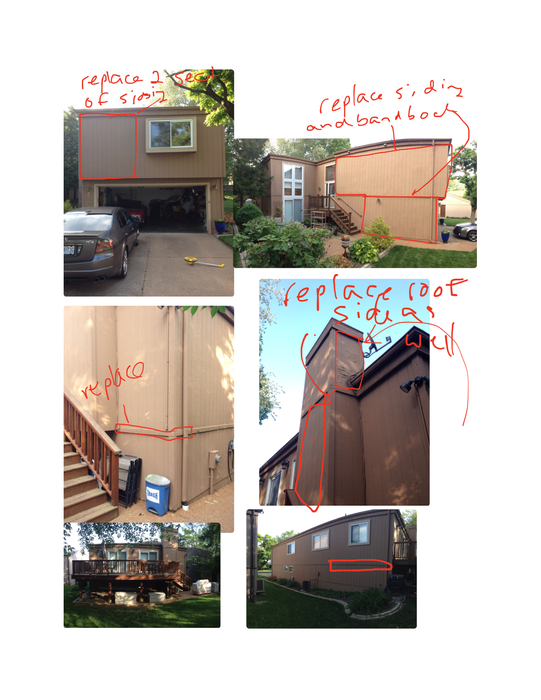 Making these kinds of notes and plans helps us to not only assemble an accurate estimate, but also a plan of action that we can share with both the homeowners and crew. This makes for an efficient, communicative process in which everyone is on the same page.
Repair, Replace, and Repaint
Below are a couple of photos, the first capturing the worn siding area that needed replacing, and the second showing how it all looked after being repaired and painted.
We also enjoyed watching the garage transform:
Exterior Paint Colors and Details
For this project, we used Behr Premium Ultra Flat. Flat is a great option for exterior paint because it's not only durable, but it also is easy to touch-up during those minor maintenance projects down the road. Thinking long-term is always a good idea!
The house color is Behr Great Frontier Ecc 14-2, and the garage door is Behr Sierra Madre Ecc 46-1.
We Can Help!
Do you need help with your next exterior painting project? Why not contact us at Kennedy Painting? We are a reputable, family-owned company, and would love the opportunity to put our services to work for you.