6 Tips To Improve Your Home's Curb Appeal
---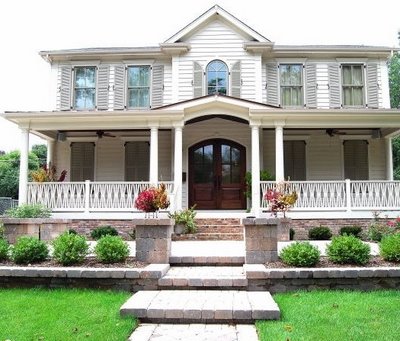 The appearance of a home reveals a lot about the family within the home. Whether or not the exterior of your home reflects your family, passers-by, potential home-buyers, and neighbors will assume that the way your home looks on the outside is the way it looks on the inside.
If your home emanates style and charm, it will spark intrigue and will make people want to see the inside as well. Here are some simple ways you can improve your home's exterior to add elegance as well as value to your home.
Refresh your front door. The entryway is the focal point of a home's curb appeal, so it's important that it looks polished and well-kept.
Frame your focal point. Let the rest of your home's exterior compliment the focal point (the front door). Use white moulding around the entryway so the door really stands out. Also you can use the door color as an accent color for trim around the front windows.
Make sure you have symmetry in color. With your eye, divide your house down the center of the front door and see if the paint is symmetrical on both sides of the house. Our eyes look for balance in color, and since most house-architecture is already symmetrical, it is aesthetically pleasing when the color is also well-balanced.
Improve porch railings and/or fences. St. Louis is known for its beautiful, old-style homes with timeless porches and charming fences. However, porch and fence railings can deteriorate quickly if not treated properly. If your home has any front railings, take the time to refresh the paint and/or material so that it maintains it's quality and beauty.
Powerwash your home. Powerwashing is a great effective way to remove any mildew, build-up, dirt or grime on your home. You can also use power-washing for your driveway, sidewalk, sheds, etc.
Renew paint, siding and trim. If you make the first five improvements and your home still looks a little dingy, you know it's time for some new paint. An exterior "facelift" immediately transforms the appearance of any home.
Periodic maintenance of your home's exterior surfaces is the surest way to keep your house looking its best. You want to make sure that the outside of your home not only looks nice, but that it also accurately reflects your personality and the inside of your home. Look for ways to add personality with color, design, and other details.
Give Kennedy Painting a call if you have any questions about color and design. If you would like a free estimate, call us at 314-952-0156, or contact us online.