Why You Should Replace Rotted Wood
---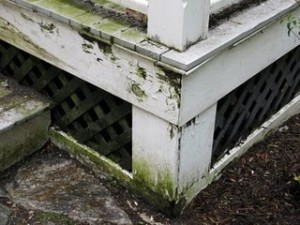 Throughout the 4 seasons in St. Louis, sunshine, moisture, wind, and cold temperatures cause great damage to our exterior woodwork. Exposure to these elements often leaves us finding rotten boards in our siding, trim, decks, fences and railings. Sometimes small patches of rotten wood can be cleaned out and then filled and repainted without disturbing the rest of the woodwork, but usually the best solution is to completely replace the rotten boards. It may seem more economical to just replace small portions of the wood, but in most cases, the new seams just become additional leak points where more mold can be produced.
Rot in wood mainly comes from water, warmth, absence of light, and lack of fresh air circulation. Mold spores are usually carried by water into wood crevices; rain and wind can also carry particles of dirt which can turn into mold. Mold spreads rapidly when in an optimal environment, such as a moist wood crevice. This is why it's vitally important to promptly treat damp or damaged wood. Rotting wood is also a welcoming home to critters and termites, so every new season should be a reminder to check any exterior woodwork for mold or insect infestation.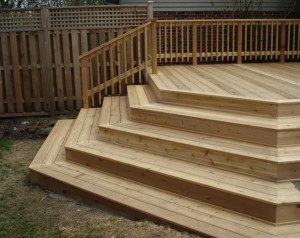 Mold can also be a health hazard when touched or inhaled, so as a safety precaution replace any rotting wood before your family begins spending more time on the deck or around other exterior woodwork.
St. Louis House Painting is a family owned painting company serving all of St. Louis. We provide carpentry repair services and can replace rotten wood siding, trim, deck boards and railings, as well and seal and stain exterior wood.
Now is a great time of year to repair your deck and exterior wood work before the festivities of late Spring and Summer begin.
Call us at 314.952.0156 for a free estimate, or contact us online.