Why You Should Have Your St. Louis Deck Refinished
---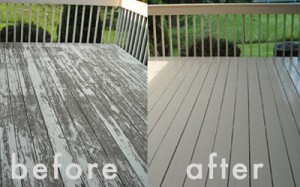 St. Louis Decks are a great way to "be outdoors" without really leaving your house. Sadly, many homeowners neglect them, and they lose that fresh, new look. St. Louis Deck refinishing is not that hard, and it will protect your deck for years to come.
Why should you refinish your deck?
Decks these days are made of cedar, redwood, or pressure-treated pine. These woods are resistant to rotting and will remain structurally sound for over 40 years. So truthfully speaking, there is no pressing need for refinishing. However, the elements will damage your deck's appearance. Ultraviolet rays break down wood fibers and lignin and make your deck gray out. Water damage makes nails pop out. Mold and mildew are ugly and are slippery when wet. General wear-and-tear makes wood splinter.
How does deck refinishing correct these problems?
The acid in your professional St. Louis Deck Refinishing comapny's cleaning solution repairs the damage caused by the sun. Bleach kills the mold and mildew, and pressure washing gets rid of the dirt that harbors microorganisms. Deck sealer stops water damage to keep the nails from popping out. Deck sanding gets rid of splinters that hide dirt and make sealing difficult. Also, replacing any rotting wood prevents the rot from spreading.
When should you refinish your deck?
You should get a professional St. Louis Deck Refinishing company to seal it every three to four years, but you should also replace rotting wood and pound back in nails whenever you have the chance. If your deck is new, don't wait too long or it will quickly gray and splinter. Give it about a month to settle and then refinish it. If you are diligent, your deck will stay nice for decades to come.
Article Source: http://EzineArticles.com/4855817