Pick Colors That Compliment Your House
---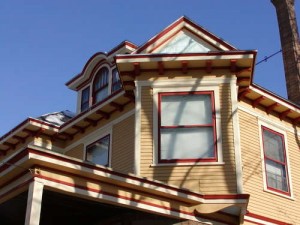 Sometimes it's easy to pick a color you like for your home exterior without thinking about how the color will actually look on the house. A modern rancher with a flat roof and clean lines won't sport the same colors as a older Victorian home. The best colors will highlight the most beautiful features of your home.
If you're not sure how to pick a color that will look good for your home, consider these points:
Structure. Think about how you can compliment the structure of your home by using accent colors. Skillful use of color can even disguise design flaws, boosting the curb appeal and value of your home.
History. When painting an older home, you should consider using a historically appropriate color scheme. If you look for historic color charts, you can select shades that may have been used around the time your home was built. If you have a modern home, you can have fun with dramatizing architectural details or using rich solid colors.
Neighborhood. Take a look at the homes around your neighborhood; pick a color that will set your home apart from the others, but that won't clash with any nearby homes. If your home isn't in a development or neighborhood than run away with whatever colors you like best!
Roof and permanent house features. Be sure to pick a color that corresponds with your roof. It doesn't need to match the roof, but it should blend nicely with the roof color. Also, look at your house and find all the parts that will not be painted (things like brick, wood, vinyl, etc). Make sure the color(s) you choose harmonizes with those colors as well.
Light and Contrast. Light colors often make a building look larger, so use white or pale ivory to your advantage for making your home look grandiose. You can use contrast by painting your trim a complimentary/contrasting color with the rest of the house. Keep in mind that dark bands of trim will make your house seem smaller, but will draw attention to the details.
Balance. Make sure that you balance the colors over the entire home exterior. Don't use contrast just on one side of the home and neglect the other, instead, carry out the color scheme over the whole house.
Keeping these points in mind, pick out a color according to your taste and preferences. Don't be afraid to be bold, just be considerate of what will look best for your home and in your neighborhood.
If you have any other questions, our painting experts at Kennedy Painting would be happy to help! Call us at 314-952-0156.