Can Your Interior Paint Color Impact Your Mood? Absolutely!
---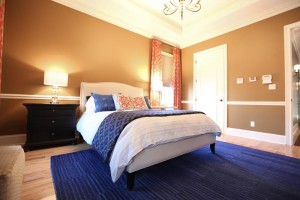 Fresh paint can make you feel good. Who doesn't like to see a fun transformation, or enjoy adding a little depth and personality to their walls?
Going beyond that fun factor alone, did you know that your interior paint color also has the power to directly impact your mood? It can even boost your energy, make you sleepy, jumpstart creativity, or leave you feeling tense.
Colors interact with our brain in a powerful way, causing real, tangible effects. Isn't that amazing? So, with that said, as you pick your next interior paint color, it's certainly important to think about style, but it's also important to think about how you want that color to make you feel.
We'll show you what we mean.
How the Primary Colors Can Make You Feel
Red
This is a striking paint color option, but if the amount or saturation is too intense it can leave you feeling on edge. As a little fun fact, many restaurants incorporate red because it can increase your metabolism and allow you to eat more. What does this mean for your home? Well, red can absolutely be perfect for many rooms, but it should be minimal and subdued. Choose a shade that is not overly intense, and don't use it in places where you want to relax or need to focus.
Blue
Blue is nearly the opposite of red. It can slow your heart rate, calm you, and sometimes make the room feel cool (even chilly!).
Yellow
This invigorating option offers less intensity than red, but nearly endless optimism.
Paint Colors to Boost Your Creativity
Green is uniquely powerful.
On one hand, because it's directly connected with nature, it has a very relaxing effect. At the same time, green has been shown to increase creativity. Exactly why this is the case isn't clear, but the studies are interesting.
Maybe green would be a good color for your home office?
Colors That Will Help You Relax
It may not be as good as a massage, but some colors will help you to unwind more effectively than others. You can find more ideas and examples in this article by House Beautiful, but here's a quick snapshot of a few popular options:
Light green

Earthy colors

Grey

Purple

Blue

Pale pink
Have Fun Choosing Your Colors!
Remember, the variety of shades and hues available are nearly limitless. The information above is interesting and fun to keep in mind, but it doesn't mean that red can't be a good bedroom color, or that green will help you to become the next Thomas Edison. At the end of the day, the colors you choose for your St. Louis home should simply be the colors you love.
If you need help with your next painting project we hope you'll consider contacting us at Kennedy Painting! We're here to help.