Can I Paint My Ceilings A Non-White Color?
---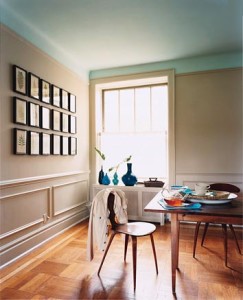 A question we often get asked by homeowners is, "can I paint my ceilings a color other than white?" The short answer is: absolutely. Painting the home can be equated with dressing and accessorizing a person. Painting the ceiling is like wearing a hat. Not everyone chooses to wear hats, but a hat can be a lovely or dapper addition to an outfit. Similarly, not everyone likes to paint their ceilings, but painting the ceiling is a form of expression that can certainly augment visual appeal in a room.
Most often we are asked to paint ceilings of bedrooms, dining rooms and living rooms. Here are a few ideas of how to paint your ceiling.
Paint the ceiling a lighter shade of the wall color.
Paint the ceiling a complementary or contrasting color to the wall color.
Install coffered ceiling moulding and paint the insides for a regal effect.
Paint a mural that starts on the wall and continues on the ceiling (this works particularly well for bedrooms).
Stripe your ceiling alternating white and another color. This technique instantly adds depth and sophistication to a room. (If you don't know what striping is, read our blog on how to paint shadow stripes, which is the same type of technique).
All of these are great ways to add elegance or vivacious style to your home. Do you have any other ideas of good ways to paint a ceiling? Comment below and tell us what you think! If you have any questions, call Kennedy Painting at 314-952-0156.