Bathroom Color Trends and Design Tips
---
Your bathroom is a big deal, and not just because of the function and purpose it serves in your home. Bathrooms also contribute directly to your property's overall value, perhaps in a bigger way than you even realize.
For a closer look at a specific example of this tangible, dollars-and-cents payback, click over to this interesting article: A Surprising Benefit of Painting Your Bathroom Blue.
Today, let's take a look at a few more tips and tricks for maximizing your bathroom's functionality and value.
Popular Bathroom Color Trends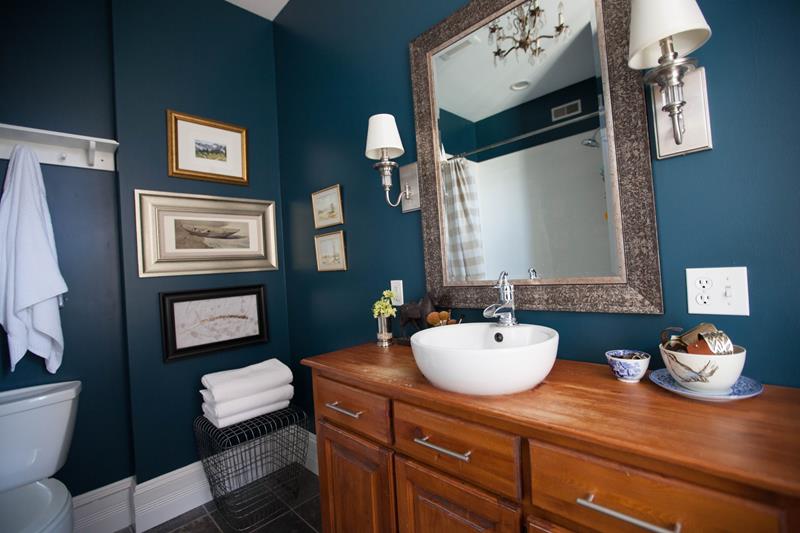 What's hot right now in the world of bathroom color? Here are a few prime examples.
Blue!
This is an obvious place to start, for the reasons we shared above. But, beyond just a serious return on investment, blue offers a tranquil, relaxing environment for your morning routine.
Warm Neutrals
The beauty of a warmer neutral is that it won't dominate the space, leaving plenty of room for patterns and colors in your towels, shower curtain, tile, etc… Unlike pure white, however, these options still offer a bit of warmth and personality.
Neutral colors also tend to help a bathroom feel larger, which in most cases is beneficial.
For example, take a look at the color below: Kid Gloves, from Benjamin Moore. Click the photo to review an article offered by Better Homes & Gardens that explores numerous popular bathroom colors.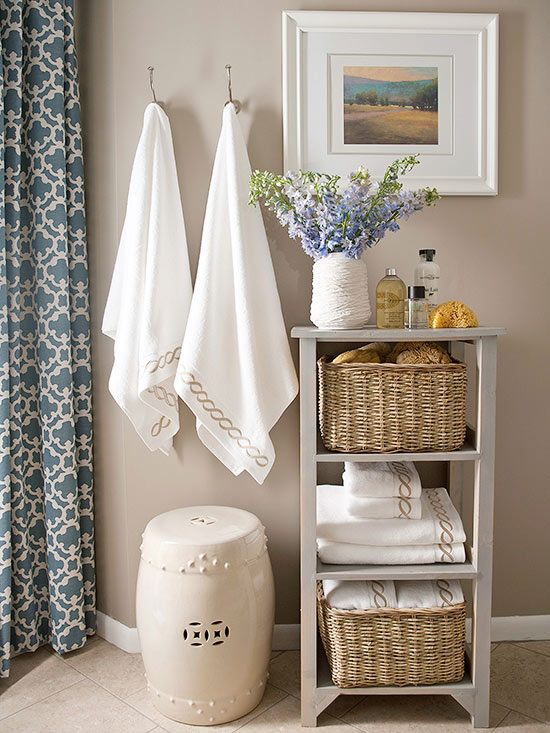 Can You Go Bold in the Bathroom?
Yes! If you're hungry for color, stepping over into the opposite extreme is also trendy. Rather than rely on decor for color, make your walls a statement, and then stick with more neutral decorations and linens.
Bathroom Design Tips for Your St. Louis Home

Lighting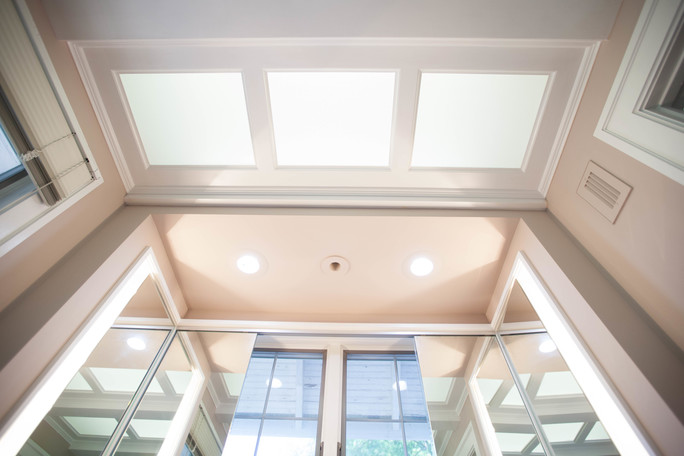 Lighting is everything in a bathroom, and needs to be considered before you choose your wall colors (ideally). For example, yellow bathrooms are risky. When you flip the light switch, you might find yourself standing in what feels like a glass of lemonade – it's not flattering for your bathroom or your skin!
Whenever possible, free up your natural lighting entry points, keeping window treatments to a minimum.
For example, we recently painted the bathroom you see above right here in St. Louis. We love the subdued colors, the ample light, and vibrant illumination that happens naturally.
4 Tips for Designing and Painting a Smaller Bathroom
Have a tighter space to work with? That's okay! Here are a few ideas for adding big style:
Keep the floor clear of unnecessary furniture, storage bins, etc… Floating vanities are ideal as well, creating the illusion of more space than there really is.
Utilize mirrors to maximize the light in your bathroom and make things feel a bit more spacious.
Choose your paint colors carefully! If there is plenty of natural light, your options tend to open up. If light is limited, try to stick with a lighter palette.
Install a glass shower door. A shower curtain may look nice, but if you can open up the sight lines with a glass door, your bathroom will feel that much bigger.
Talk with a Professional Bathroom Painter Today!
If you live here in St. Louis, we hope you'll give us a call at Kennedy Painting. We can help you make the very best paint choices for your bathroom!